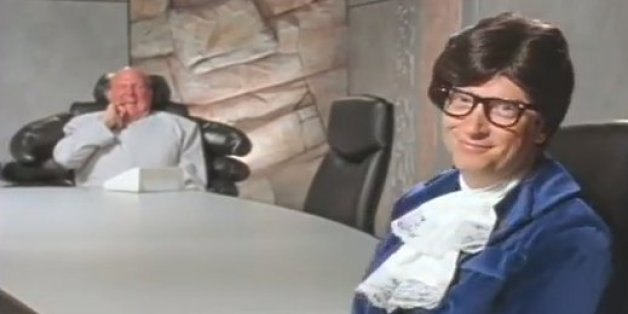 x
Microsoft is getting back its "mojo" but could still be overtaken by more digitally innovative rivals, a senior executive has warned.
Speaking to the Huffington Post UK, Microsoft UK's chief marketing officer (CMO) Philippa Snare said: "It would be difficult for me to say this doesn't concern me".
Snare's comments about Microsoft's mojo are a subtle reference to Microsoft founder Bill Gates, who starred as British superspy Austin Powers in a company film.
Microsoft founder Bill Gates stars with former CEO Steve Ballmer
Snare suggested that the tech giant had "probably not" got the balance right between offering "great products and services" and communicating to consumers about them.
The tech giant's sluggishness at communicating means it risks appearing "stale" compared to its rivals. But for now, Snare said: "We are getting our mojo back."
"Microsoft has smart engineers, brilliant business acumen and creative marketers, when we get all those things working like an orchestra it is incredible."
"I am not sure even the top athletes would be able to sustain that for as long as Microsoft has. We compete in the enterprise space, consumers, gamers, public sector, original equipment manufacturers, operators, retailers, you name it. What other company has that breadth?"
The marketing chief's comments come before she speaks at the LikeMinds event at the Digital Marketing Show next month.
Here's a slideshow of Nokia mobile phones through the ages, which Microsoft has now bought. Let us know if you think Microsoft's Nokia has got its mojo.