Once upon a time (well, when more of us were virgins on our wedding night) first night sex was a huge deal, with a great amount of expectation placed around it - think fireworks, earthquakes, comets in the sky type of explosions.
(Clearly this was a myth invented by a man since a woman's experience of her first time, barring Anastasia Steele, is 'ow, ow, get that thing away from me').
However now, considering so many of us either a) aren't virgins and b) have probably lived with each other before the big day, is the news that only 48% of people actually manage to have sex on the wedding night, such a big deal?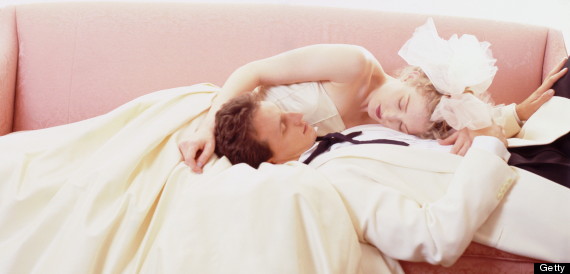 According to a survey of over 2,000 people, 52% didn't manage to have sex, and 17% of those confessed that they waited more than three days after the day.
As you may have guessed, alcohol was the biggest culprit. 24% of men were too drunk to have sex even if they wanted to, and 16% of women were too tired and fell asleep.
Clearly, the idea of a first night has changed. Emily Dubberley, leading sex expert and author of Garden of Desires, says: "While this isn't a scientfic study, the results don't surprise me. False expectations and pressures for sex to be perfect on your wedding night may make some people feel nervous or tense.
"Add in the numerous potential stressful factors on the day, from event organisation to conflict between friends or family or simply copious amounts of drink flowing and it's no wonder many people aren't in the mood. Some people may also choose to enjoy spending time with all their friends and family while they have the opportunity to see everyone in one place."
In the study, conducted by VoucherCodesPro.co.uk, nearly 72% agreed that sex on a wedding night was not as important as it had once been.
Emily adds: "There's no right or wrong as to whether you should have sex on your wedding night - it's up to the pair of you to decide. If consummating your marriage on your wedding day is important to you, you might decide to take some time together before the reception.
"You might agree to enjoy the reception until a certain time then leave together. You may want to go with the flow and see where the evening takes you. Sex is only one part of being married, and how/when you have it is up to you: there's no need to feel pressured into sex by society, even if you have just got married. Taking the pressure off will help you relax and truly enjoy your wedding night."
WE DIDN'T HAVE SEX BECAUSE...

1. The groom was too drunk (24%)

2. The bride was too tired and fell asleep (16%)

3. The bride was too drunk (13%)

4. Had to look after our children (11%)

5. We had an argument before wedding reception ended (9%)

6. Needed to leave for our honeymoon (9%)

7. Stayed up all night partying/celebrating with guests (7%)

8. The groom was too tired and fell asleep (4%)

9. Neither of us felt like having sex (4%)