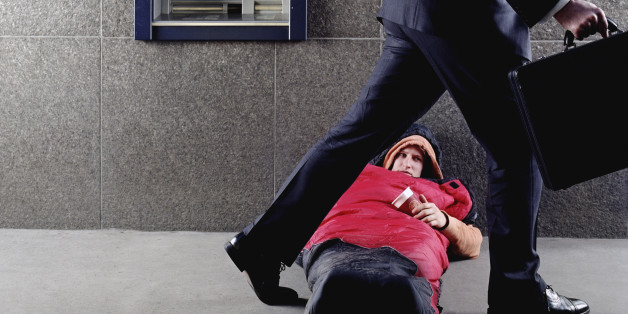 Getty
Bankers and other City workers have been warned by police not to help street beggars, while a report found that the number of homeless people sleeping rough in the City nearly doubled last month.
City of London police currently give beggars tickets, and continued offenders face prosecution and an anti-social behaviour order. In September, 27 people were found sleeping rough in the City, an increase from 16 in August.
TOP NEWS STORIES TODAY
The force has suggested workers should give money to homeless charities rather than directly to beggars.
It also comes as mid-ranking bankers have complained that they are "struggling" to get by on salaries as high as £500,000-a-year.
Richard Kingdon, an addiction counsellor based in the City of London, told the Huffington Post UK: "People in the City are spending £50,000 on a weekend with prostitutes, gambling, and cocaine so why wouldn't they get into trouble?"
The latest warning comes as a report suggests the City is being targeted by "known drug users".
According to the Evening Standard, it reads: "Some beggars, who are known drug users and in accommodation, are earning up to £500 per week begging — the majority of which is being spent to fund their drug addiction."