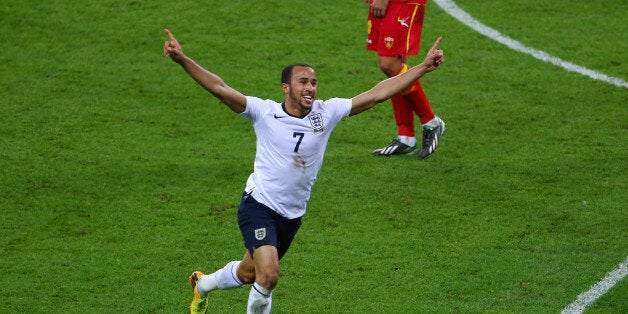 Andros Townsend became the second England man to commemorate his debut with a goal this season, though the similarities end there with 31-year-old journeyman Rickie Lambert.
Whereas Lambert, an unashamed battering ram, has emerged as a symbol of Roy Hodgson's brief England era Townsend is a more left-field success, and Hodgson had plenty to thank the 22-year-old for after the 4-1 defeat of Montenegro.
Townsend's forceful directness was the catalyst for Wayne Rooney's opener and his 25-yard screamer allayed any fears of Hodgson suffering Fabio Capello's 2011 ignominy, when Montenegro recovered from 2-0 down to level against England.
ENGLAND 4-1 MONTENEGRO: 5 TALKING POINTS
The Tottenham winger is also proof Hodgson occasionally places faith in youth. Steven Gerrard and Frank Lampard's presence in central midfield suggested Hodgson had arrived at Wembley in a DeLorean. Theirs was not a reassuring inclusion and their plodding performances were as unsurprising as they were familiar.
Fortunately for Hodgson, Townsend offered him and England fans a source of escapism.
"He made a big impact," Hodgson understatedly said. "He got the man of the match award, which he must be delighted with.
"It can't be easy for a young player making his debut for England in a game of that nature but he deserves all the credit he's going to get because he played well. He also played with a calmness and composure I've seen with when he played for Queens Park Rangers and, more recently, Tottenham and I was fortunate he was able to reproduce it tonight."
Pressed on his supposed pragmatism, Hodgson brought spin into his attack.
ENGLAND PLAYER RATINGS: WHO WAS YOUR MAN OF THE MATCH?
"I think we've been picking young players all along, haven't we?" he replied when it was suggested he was a conservative coach. "[Raheem] Sterling made an appearance, Danny Welbeck, a young player who has not always played for Manchester United, has played almost every game and Daniel Sturridge would have been with us and played more regularly would it not be for injury and Wilshere.
He knows what the fans mean though, what with the numerous stalemates, doesn't he?
"Well I don't really," he countered. "I'm not sure about that. I think people need to see beyond these things.
"You can only pick players who are available for you to pick and I've been a bit unlucky that before this get together that some of the very good young players who I think are more than good enough to make us a better team have just not been available. Wilshere was one and Sturridge a second."
Townsend's ebullience has been a familiar sight at White Hart Lane this season but his endurance hasn't, which made his second-half contribution all the more satisfying for both club and country.
His inclusion was a watershed moment for Hodgson, who had started James Milner in England's previous eight Group H games. Despite preaching the importance of "experience" last week, he commendably dismissed it in favour of unleashing an untried youngster, but wouldn't reveal whether he was coaxed into starting Townsend.
"You'll never know that. I'm quite prepared to mention it was a subject for discussion. It was not easy to leave Wilshere out or James Milner, with all the work he's done for us in the previous eight games. That's one very experienced player and one very talented player. It's out not easy to leave Michael Carrick out, either."
Ukraine's goal induced some "anxiety", Hodgson admitted, as England's group rivals briefly leapfrogged them with their 1-0 victory over Poland, but he declined telling his players of the scoreline in Kiev.
Poland's loss means they are unable to secure a play-off place with victory at Wembley on Tuesday. There will be no repeat of Jan Tomaszewski's 1973 heroics.
Asked about Sir Alf Ramsay's final competitive match in charge 40 years ago, Hodgson thought he was managing Switzerland.
"When was it? In October? We would have been playing... Estonia."
"Oh '73? Blimey. I was in South Africa and there was no television, even better."