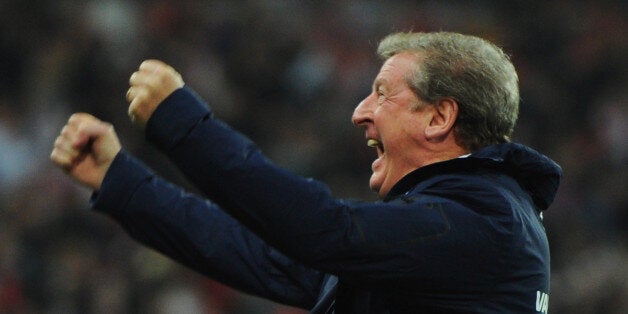 "Quite a few emotions are churning around inside me," Roy Hodgson explained. "I died a thousand deaths every time they crossed the halfway line."
With the Football Association now confirming dates with their Brazilian hotel hosts, the England coach wanted to savour the moment rather than mull over the next step. What England will plan to do in Brazil is "on hold", Hodgson said.
He has looked as animated over the last week as he was during his ill-fated stint as Liverpool coach three years ago. The relief and satisfaction of becoming the first English coach in 16 years to achieve World Cup qualification with the national side is, considering the dearth of coaching talent, a more commendable achievement than many will care to admit. Hodgson is entitled to some self-satisfaction.
ENGLAND 2-0 POLAND: WORLD CUP QUALIFYING REPORT
Optimism is rife again in England. The football is entertaining, young players are blossoming and the team is winning. It's a brief patch of domestic bliss but the Wembley wins over Montenegro and Poland have elevated Hodgson onto a new pedestal in a country he struggled for acceptance from 10 years ago. He even thinks England are learning to cope with expectation.
"This team is growing in terms of accepting pressure," Hodgson suggested. "And the real beauty of it, for me, is the blend between the experienced players and the younger players looks good. I'm rather hoping they will all stay fit because it's certainly made a difference having some of these young players back."
Although the opposition will not compare to some of the sides England could face in Brazil, beating Montenegro and Poland might later be regarded as seminal matches for Hodgson, and not just because the Three Lions ultimately topped Group H. The football was watchable and England thrived via a more positive, rather than pragmatic, approach.
ENGLAND 2-0 POLAND PLAYER RATINGS: HAVE YOUR SAY
"I thought some of the football in the first-half was quite spectacular and 1-0 at half-time was scant reward," Hodgson opined. That might be an exaggeration considering the unsettling first 30 minutes but England were well in the ascendant by the time Wayne Rooney opened the scoring on 41 minutes.
Hodgson remained on the defensive regarding his supposed conservatism, though, and recoiled at the suggestion the attacking style was borne out of necessity rather than choice.
"I never quite understand why people ask those questions," he shrugged. "Our attitude towards the game and our strategies we work on has not changed a great deal, quite frankly, since the Euros."
Rooney's own form suggests otherwise. Although he played in just two of the four Euros games due to suspension, his recent classiness in the No.10 role gave England greater authority in a 4-2-3-1 formation and he has benefitted from an abler supporting cast.
ENGLAND 2-0 POLAND: 5 TALKING POINTS
That has predictably fuelled expectation he could belatedly fulfil his potential at a World Cup at the third time of asking.
"Wayne's only 28, isn't he? Twenty-seven? I'm putting years on him. I don't think 27 is too old," Hodgson said.
"I think Steven [Gerrard] will only be 32 and certainly, one of our best players in Switzerland, Georges Bregy, when I brought him back into the national side was 37 when we played at the World Cup."
Gerrard will actually be 34 and Bregy was 36 at USA '94 but the point, Hodgson stressed, is "age doesn't blind me".
Arguably it does, though.
Frank Lampard's baffling introduction for the serene Michael Carrick backfired disastrously as the Chelsea midfielder gifted Poland possession regularly and was booked shortly after his 71st minute arrival. It perhaps compelled Hodgson to have a re-think and summon Jack Wilshere for a three-man midfield to stymie the plucky Poles, letting Gerrard off the leash and into Poland's area to dink in the clincher.
There was praise for Joe Hart, who will be "feeling happier" after delivering his most composed performance in months. England conceded just four goals in 10 games during their Group H run, continuing their miserliness from the three in four sieved at Euro 2012. That attitude certainly hasn't changed.
Ever the diplomat, Hodgson didn't want to "denigrate" his achievement in taking Switzerland to the 1994 finals. There was no mention of Fulham's 2009-10 Europa League run, however.
"I don't want people in Switzerland to start thinking that I wasn't very proud of that achievement. That was a pretty good achievement as well by those boys
"But I'm English and you can't get away from the fact as an Englishman it means a little bit more to you when you can do it with your own national team."
He is already dreading the task of selecting the 23 best Englishman to travel to South America, too.
"That's going to be a tough, tough job when the time comes. I'm not looking forward to that situation and I'm not even going to contemplate it for the next few months. I'm going to enjoy the fact we've done the job."
He'll save the thousand deaths for the group games, though.
Popular in the Community