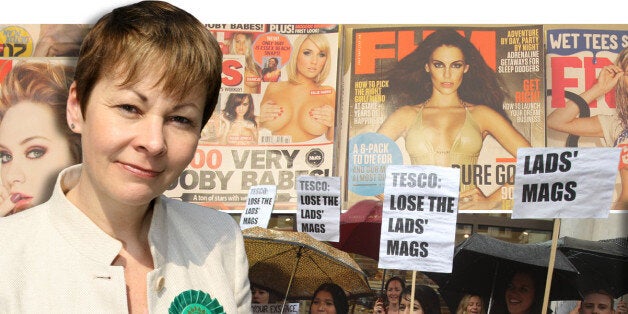 Almost half of people believe lad's mags like Nuts and Zoo, encourage sexism and want to see them banned from supermarket shelves, a new poll has revealed.
As well as arguing the mags are "harmful to society", a staggering 77% of people questioned also said would not allow their child to buy one. Shelves of "lads' mags" could soon be no more
Labour's deputy leader Harriet Harman has also weighed into the debate, saying she does not like the magazines – but stopped short of calling for an outright supermarket ban.
She queried: "Would you like your daughter to be on the front page of Zoo or Nuts or Loaded?
"It is a very powerful image that a woman's value increases with the lack of clothing that she's wearing. Don't accuse me of trying to ban it, I'm just against it," she said.
Women's rights groups including UK Feminista and Object, along with the Green Party MP Caroline Lucas have also called for Tesco to stop stocking the lads' mags.
Today's meeting with MPs, hosted by Lucas and Polly Neate, the chief executive of the charity Women's Aid, will offer statistics backing the idea that the impact of lads' mags is to encourage sexual hostility and, ultimately, violence.
"By continuing to sell them Tesco is sending out the message that it is acceptable to treat women as sex objects."
Lucas branded the magazines "sexist" and "pornographic".
"The point we are making is these lads mags are harmful by portraying women as dehumanised sex objects," she said.
"That you can buy these kinds of magazines in between the clothes and the groceries in Tesco and other supermarkets gives out a signal that this kind of attitude towards woman is normal and acceptable.
Campaigners are using legal and political pressure to push supermarkets into banning the magazines, which they say breach equality legislation.
Bur a former glamour model today argued the magazines should be left on the shelves as the internet provides far more "horrific" sexual imagery which is "freely available" for young boys to look at.
Aisleyne Horgan-Wallace told Daybreak: "There's a complete difference to a sexy woman in lingerie on the front of a magazine to hardcore pornography. It is completely different."