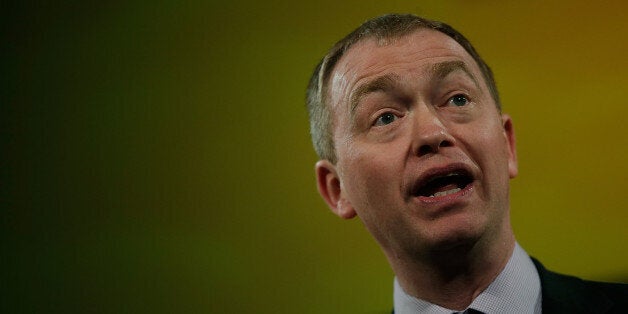 "I guess I get a lot of my anger at injustice from my faith."
Tim Farron cradles a mug of tea in his hands, as we sit in his parliamentary office in Westminster. The Liberal Democrat party president tells me he is a "committed Christian": "It matters massively. It speaks to the foundation of who and what I am. It also gives me peace because I know this isn't everything."
He nods to the view of the Palace of Westminster from his office window. Committed Christians are few and far between in the Westminster village - especially in Farron's own ultra-secular party. "I am in a minority," he says with a chuckle. "That's fine. I think it's important that Christians should recognise that."
Farron has a copy of the 'Poverty And Social Justice Bible', which highlights biblical verses on - you guessed it - poverty and social justice, placed prominently on his desk. He flicks through it, pointing out the "serious polemics" against injustice in the Old and New Testaments. I can't help but notice that he also has a copy of Richard Dawkins' 'The God Delusion' on the shelf above his head. He grins. "I'm not close-minded."
I ask Farron about his fellow Christian Lib Dem MP, Sarah Teather, who is standing down at the next election and who was condemned by party activists for her refusal to support gay marriage on 'conscience' grounds.
"We should respect people with different views," the party president tells me. "We don't just tolerate people we agree with. That's the important thing to remember.
"I thought Sarah Teather was treated in an unpleasant way by a lot of people. Sarah's reasons were considered [and] thoughtful.. No one could count Sarah Teather as a homophobe."
Teather, however, is on the left of the Lib Dems - as is Farron, who is often described as a standard bearer for the Lib Dem left in parliament. He tells me he is a social liberal not a classical liberal and distinguishes between free markets "with a referee", which he supports, and "laissez faire", which he dismisses.
I meet Farron in the week in which his own party leader seems to have shifted a tad to the left on education. At the weekend, Nick Clegg called for a ban on the use of unqualified teachers in free schools - and urged such schools to follow the national curriculum. The Tories were apopletic.
Farron, of course, wasn't. The Lib Dem president says he was "delighted" to see the deputy prime minister setting out "what we're doing that is different to the Tories and how we have a view that is outside coalition".
But didn't Clegg undermine David Laws, the Lib Dem schools minister, who had enthusiastically backed unqualified teachers in the Commons only a few days earlier?
He smiles. "It was a bit messy, wasn't it really? I am sure we can do these things better in the future."
The reality is, continues Farron, that "David Laws is number two in the education department and during that statement he was bound to make a defence of those things. … He played a straight bat on the whole thing." For Farron, "there is a defence for using unqualified people in schools but you bring them in as special guests… not run a course."
The Lib Dem president reveals that he was proud of the fact that his party had "massively watered down" the Conservatives' free schools policy since 2010, which he describes as "a balkanisation in the education system".
What of the criticisms from Jeremy Browne, the former Lib Dem Home Office minister, who has warned the that Lib Dems risk being seen as "statist" on education?
"I certainly don't accept that it is 'statist'. The point is you send your children to school and you expect them to be taught by people who are good at teaching."
Farron sees coalition splits, or 'differentiation', as an important tactical and strategic move on the part of the Lib Dem leadership. He tells me he was on Radio Cumbria discussing police and crime commissioners that very morning. "I voted for police and crime commissioners because it was [part of] the coalition agreement," he explains, "but it is important to say from time to time they are a barmy idea."
In a hung parliament, says Farron, "your manifesto becomes a negotiating document".
Yes, but why don't the Lib Dems block more of the 'nastier' Tory policies that have upset and disillusioned so many of their core supporters?
"Because then we get more of our things blocked," comes the blunt response.
He can't be comfortable with the coalition's polices on immigration, surely? As Teather put it, the Lib Dems have "moved a mile" from their pre-2010 position on immigration.
"The government" - he stresses this word - "is doing things that the Liberal Democrats wouldn't do it if it was just up to us. I don't think we as a party have moved. I think Nick has certainly reflected that the amnesty [for illegal immigrants]… is something he's moved away from because he doesn't think it's practical."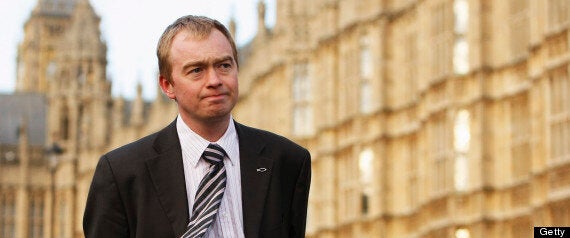 What about the coalition proposal to demand "security bonds" for overseas visitors from certain Asian and African counties?
Farron says he is opposed to the move and calls it "discriminatory". "We need to remember that immigration needs to be managed…but we can't ignore the fact that it's worth something like £7bn a year to us in terms of the net gain to GDP," he tells me. "We need to be very careful that we don't come up with policies that please some tabloid headline writers and then do some real damage to the economy."
Does he include Theresa May's 'Go Home' van, which targeted illegal immigrants over the summer? The Home Office on Tuesday confirmed that there would be "no further rollout" of the provocative billboard campaign which Farron describes as a "massive failure". He pauses for a moment. "To be honest with you, was it a massive failure or was it a clever move to get some headlines?" For the Lib Dem backbencher, such "cheap publicity shots.. achieve absolutely nothing".
Over the past 24 hours, Norman Baker, the new Lib Dem Home Office minister has tried to claim credit for the U-turn on the 'Go Home' van - and Tim Farron has backed him. Baker, of course, is the MP who once accused the security services of covering up the 'murder' of the former weapons inspector, Dr David Kelly. Does the party president think he is the right man for the Home Office job?
"I do. Norman is a really tenacious minister. He was a brilliant minister at transport…"
I interrupt – should he be a minister at the Home Office, given his controversial view of the security services?
Farron doesn't budge in his defence of Baker. "In many ways, that's exactly what you want. You want someone who is a sceptic on the inside.. He is an effective minister and a real cat among the pigeons."
Farron, however, says he doesn't "buy Norman's conclusions" on David Kelly's death. But are they conclusions or just conspiracy theories?
"There are conspiracies," he replies. "And sometimes we're not clear what they are… I don't accept Norman's conclusions in all this but I think it's a brave politician who does things like that, really."
Baker replaced Jeremy Browne at the Home Office. The latter has since revealed that Grant Shapps, the Conservative Party chairman, approached him and tried to persuade him to defect. Don't left-wing critics therefore have a point when they accuse the Lib Dems in government of being Tory mini-mes?
Farron shakes his head. "I expect they ask a lot of people."
Has he been asked to defect? The Lib Dem party president looks at his assistant, sitting nearby, and laughs out loud. "I can't recall being asked to join the Tories."
So why did the Tory Party chairman approach Browne? Isn't it because Browne is on the "classical wing" of the party, which is so close to the Cameroons?
"I imagine that Grant Shapps is just trying a bit of mischief, just as I often say that [Tory MP] Rory Stewart should join the Liberal Democrats. It's not an unusual tactic."
The other big Lib Dem-related story of the week, aside from the row over free schools, has been the government's announcement, or specifically, Lib Dem energy secretary Ed Dave's announcement, that Britain would build its first new nuclear power plant in a generation (with French and Chinese investment).
Some Lib Dem activists have expressed concerns that the Hinkley Point C decision violates the coalition agreement, which explicitly states that any proposed extension of nuclear power must involve "no public subsidy". The coalition's announcement on Tuesday guaranteed investors a strike price of £92.50 per megawatt hour - or double the current market rate.
For the first time in the interview, Farron looks very uncomfortable. He admits he has "huge unease" about the Hinkley decision but adds that he "understands" why the government is doing it. "We've basically squandered [over] thirty years… the opportunity to have a decent renewable energy supply and having got to this stage I understand why Ed Davey, and why the government, are moving down the route of going nuclear and why it involves cost on the scale we're talking about."
He pauses. "Personally, I still believe that really ambitious investment in renewables would be a better solution.."
I interrupt. What about the violation of the coalition agreement on nuclear subsidies?
Farron dodges the question. "The most fundamental thing is that we keep the lights on and so that the investment is justifiable in that sense. Personally, I don't think the time has come for us to go down the nuclear route again. I would not be supportive of this but I understand it.."
He stops mid-sentence. The discomfort is palpable. I ask again about the coalition agreement. He ums and ahs.
"Well, the question is what options the government has when you see the crisis that has been coming for some time now. My concern is not…there is always going to have to be some subsidy involved if you're going to create new power stations…the concern is that there were better ways of doing this."
He continues: "I'm not just talking about small scale green energy. The government could have built serious civil engineering projects, tidal barrages and tidal reefs and the sort, which would dwarf potentially what they'll get from Hinkley and they could have done that in an industry where 95% of the supply chain is British."
Farron adds that he isn't a "Little Englander" but he does "seriously question what is going on when so much of this investment is going to bleed overseas", that is, to France and China.
"I still believe that there would have been time for us to invest in tidal energy which would have potentially provided at least as much as Hinkley as going to give." He leans forward in his seat. "So I understand it, I am pragmatic about nuclear power…I am broadly speaking skeptical about nuclear..and would have preferred us to go down the renewables route."
LOW MARKS FOR SOCIAL JUSTICE
Farron is known as a plain speaker - and his position outside of government, and as party president, gives him a license to roam and to speak out. I ask him about the coalition's record on social justice - and he gives an admirably honest answer.
"I'd give them 5 out of 10."
Ouch. Can he be more specific? On the positive side, the Lib Dem president mentions "fairer taxation", increased state pensions and "the fact that Nick Clegg used up vast amounts of political capital to get [the children of asylum seekers] out from behind locked doors, from detention".
And on the negative side? He mentions the "spare room subsidy", or what Labour calls the "bedroom tax". "I understand the need to trim the welfare bill but I think there were other ways of doing it. You could have capped housing benefit by rent regulation in a way which would have meant that the burden would have fallen less on those who have least and more on those who have more."
So the president of the Lib Dems concedes that some of the coalition's welfare reforms have been unfair? "Yeah yeah, absolutely." He then adds, defensively, that the Lib Dems prevented George Osborne from lopping an extra £10bn off the welfare budget.
Such a message doesn't make those welfare claimants who have had their benefits cut, or abolished, feel any better, does it?
"Of course it doesn't. You wouldn't have chosen to have ended your four-generation absence from government in these times, whoever was in power. I imagine if the Socialist Workers Party had been in power they would have had to make massive cuts as well."
Farron continues: "Austerity is not something the government has chosen. Austerity is a reality. The question is whether you can make it fair and whether you can make it last as short as possible."
He says the coalition's management of the economy has "prevented a disaster. Britain is a relatively safe bet for an investors today which is amazing… as a consequence, we haven't got a load businesses going to thwe well and we haven't got massive house repossessions. That is no small victory. It's a massive victory. So maybe I'm arguing myself up to 6 out of 10."
I wonder what score he'd give the Lib Dems' record on diversity. There are just seven female MPs out of 57 Lib Dems in parliament. The Lib Dems have five seats in cabinet - all of which are held, and have been held, by men. In the reshuffle on 7 October, Clegg replaced Michael Moore at the Scottish Office with Alistair Carmichael. Junior minister Jo Swinson, who represents a Scottish seat, wasn't considered for the Cabinet-level post. Jo Swinson is the most likely Lib Dem women to get a seat in cabinet
Farron tells me he is "very ashamed" at the lack of female representation on the Lib Dem parliamentary benches and says he "would have put a woman in the cabinet". The backbench MP says he understands why Clegg didn't - "You pick people on the basis of availability and where they are in their lives and careers.." - and concedes that the deputy prime minister had "made good selections".
However, the party's president repeats, "I might have selected a women into the cabinet."
Could the Lib Dems become an all-male party at the next election, given how most of their current women MPs represent marginal seats?
Farron counters that "the majority of [Lib Dem] target seats that have selected [candidates] so far.. have selected women. So that's a big step forward."
However, Farron also admits he is "utterly ashamed" of the Lib Dems' record on ethnic diversity. The party failed to elect a single non-white MP in 2010. "You can go into all sorts of apologetics as to why that's the case, but it's not worth bothering. The reality is we have to do something about it."
He tells me the party's new "leadership programme" would benefit both female and minority-ethnic candidates come the 2015 general election, by providing "additional support and investment to get them into target seats".
As for the allegations of sexual harassment made against Lord Rennard, the party's former chief executive, Farron claims that they "woke us up out of complacency... Maybe we [Lib Dems] don't practise what we preach. It's made us a lot more aware of how we treat one another... though it has made us massively uncomfortable." (Lord Rennard strenuously denies all of the accusations made against him.)
In the past, Farron has strongly backed having television debates between the party leaders in the run-up to the general election. Does he think Ukip leader Nigel Farage should be allowed to participate? After all, Ukip has been consistently polling ahead of the Lib Dems over the past year and Farage has almost as much chance of becoming prime minister in May 2015 as Nick Clegg. Farron isn't convinced. "In the general election, you wouldn't give [Ukip] a [TV debate] platform.. I mean the BNP were on 7 or 8 per cent, four or five years ago, and we wouldn't give them a seat because they don't have parliamentary representation."
If parliamentary representation is the key, then why not allow Caroline Lucas MP, of the Green Party, to participate? Why only Cameron, Miliband and Clegg?
"They're the likely characters who will be forming the next government," replies Farron.
Farron is often touted as the Lib Dems' leader-in-waiting. He is bright, articulate and ambitious. Should Clegg fall under a bus, he'd be the favourite for the job, wouldn't he? He has clean hands, too, having never taken up a ministerial job in the Conservative-led coalition.
There's a long pause. He leans back. "I have no idea. Well, I will do my best to keep him [away] from any buses. That's part of my job actually." He adds: "There is a sense that Nick's standing is improving…"
But, if there's a hung parliament in 2015, won't Labour simply refuse to enter a coalition with a Nick Clegg-led Liberal Democrat party? Won't Ed Miliband and co demand Clegg's head as the price of coalition entry, in the same way that the Lib Dems demanded Gordon Brown's head in the 2010 negotiations?
Farron's answer is surprising. "I think first of all we were wrong in 2010 to call for Brown to go. Because it's nobody's business but the Labour Party's who leads the Labour party and the same applies to us."
He says if Labour tells the British people "we won't form a [coalition] government that you need because we don't like the leader of the only party we can do a deal with, the British people won't forgive them and won't tolerate that."
Labour, of course, would much prefer to do a coalition deal with the centre-left, "social liberal" Farron, who is on record as saying he "really likes" Miliband. So, is he ruling out ever being leader of the Liberal Democrats?
"It is not part of the plan." He says this sentence very slowly and clearly, a wide smile on his face. Perhaps, if as the polls suggest, the Lib Dems crash and burn come May 2015, that plan will have to change. Fast.