There's a big apology and quite possibly a rather large compensation cheque heading to the Roma family in Ireland who had their blonde haired, blue-eyed schoolgirl forcibly removed by police after DNA tests proved she is their daughter. The seven-year-old youngster had been in State care in Ireland for two nights after a member of the public raised concerns about her appearance compared to relatives in a south Dublin suburb.
Sources confirmed DNA test results on Wednesday proved she belonged to her parents, who have maintained she was theirs since she was taken by authorities on Monday afternoon. Earlier a two-year-old boy was removed from his family home in the midlands town of Athlone overnight was returned to his parents following inquiries by gardai.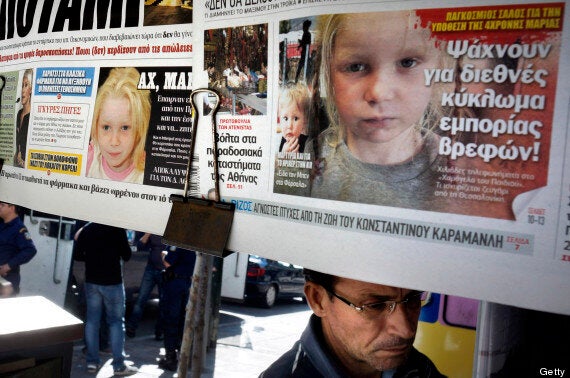 People walk past newspapers on a stand which feature front pages reporting on the story a four-year-old girl reportedly named Maria, who was found living with a Roma couple in central Greece
A human rights group has called for an independent inquiry amid claims the two Roma children were "abducted" from their families by authorities. Pavee Point fears there is hysteria after the case of a blonde-haired, blue-eyed girl named Maria was found with a Roma family in Greece and accused gardai and health chiefs of racial profiling.
Action to seek a care order over the seven-year-old girl was taken after gardai believed the family was unable to prove the girl's identity conclusively. A couple saying they are the girl's parents said she was born in the Coombe Hospital in Dublin in April 2006 and is their daughter.
However officers removed the youngster after spending several hours at the Dublin property on Monday. It is understood that a name and date of birth the parents gave did not match records with the register office and a passport bore a picture of a baby and could not be matched to the seven-year-old.
A number of other children, believed to be the girl's siblings, who were in the house at the time were not taken into care. Relations said the girl - who was physically well - was not the only member of the family with blonde hair. In the Greek case, a DNA test on Maria proved she was not related to Christos Salis, 39, and Eleftheria Dimopoulou, 40, and the couple have been held on charges of abduction and document fraud.
A 21-year-old sister of the child, who can not be identified for legal reasons, said their mother had not eaten for three days because of she was so distraught. "Everyone was very sad," she said. The sister said she hoped no other family would have to go through a similar ordeal. The most important thing now is that my sister is coming back," she said. The sister said she supported calls by human rights campaigners for an independent investigation into the cases.
She added that neighbours, family and friends were very supportive to them during the last number of days. "We are very happy," she said. "We will have a big party. We will have music, dancing, everything."
In a statement, a solicitor for the family said his clients were "absolutely delighted" that their daughter was coming home. Waheed Mudah said the girl's removal had been a cause of huge upset to her parents, brothers, sisters and the young girl herself.
"Her parents greatly appreciate the help and assistance that they have been given by friends and relatives over the last few days," said Mr Mudah. "They now intend to concentrate on looking after their family and, in particular, in trying to reassure their daughter that she will be their care."
Meanwhile, the Garda said it takes seriously all reports concerning child welfare, and takes immediate steps in line with regulations. "Protecting vulnerable children is of paramount importance to An Garda Siochana and we continue to work in partnership with the HSE and other agencies to ensure children's safety," a spokesman for the force said.
"An Garda Siochana has a published and comprehensive policy which remains under constant review into the investigation of sexual crime, crimes against children and child welfare, which provides for an effective and coherent approach to the investigation of this sensitive and challenging area."
The statement concluded: "An Garda Siochana want to assure the community that we take extremely serious all reports received from members of the public concerning child welfare issues. In all cases immediate steps are taken to protect the welfare of the child in accordance with relevant statutory provisions and obligations."
Reading the statement outside a family law court where legal proceedings were held in camera, Mr Mudah said his clients hoped no other family has to go through the experienced they have suffered. They also do not believe that what happened to them in recent days should ever have happened.
"They do not accept that this was any proper or sufficient basis to take their daughter away from them thereby causing her and them the upset which has been caused," he continued. "They are very conscious of the fact that this case has been linked with events in other countries which have nothing to do with them and that there has been a vast amount of publicity about their situation.
"They are also conscious that it will be difficult to try to return to normal life. They believe that there are very serious questions arising about the procedures used in this case but are going to wait for things to settle down and consider their position and that of their daughter in light of recent events and will be taking legal advice in respect of this."