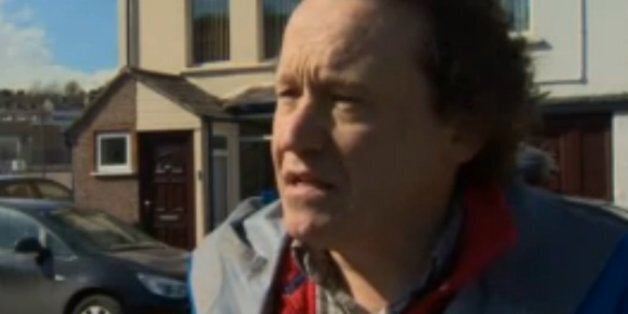 A former mayor who had an "active interest in pyrotechnics" has been sentenced to 18 years in prison after he turned his own neighbourhood into a "battlefield"..
North Wales town councillor John Larsen got a "thrill" from setting off the blasts, some of which sent ball bearings and metal shrapnel flying up to 90ft (27m) away, a court heard.
In the most serious incident, he blew up a Land Rover in a bizarre case that the judge branded "very unusual."
Larsen, 46, of Lenten Pool, Denbigh, was convicted of three counts of arson, one of causing an explosion likely to endanger life and another of possessing explosives with intent to endanger life by a jury of six men and six women at Caernarfon Crown Court.
Judge Merfyn Hughes QC said it was "a very unusual case and these are very serious offences".
The trial heard that Lenten Pool was plagued by the sound of loud bangs as Larsen set off a string of explosions, sparking fear in the community.
North Wales Police found a manual on pyrotechnics in his house, a computer file named "gunpowder mix", modified fireworks and rockets, and ball-bearings.
The court was told that, just days after the files were created, explosions were reported in the Lenten Pool area.
Mr Lloyd Jones said it was "fortunate indeed" that nobody had been injured.
Larsen, who was working as a Liberal Democrat town councillor until his arrest, had been Mayor of Denbigh in 1999 and was a member of the local Neighbourhood Watch.
Mr Lloyd Jones said: "It's highly likely, the prosecution say, that the defendant, John Larsen, was getting a thrill from what he was doing and the attention that these events were generating."
The court heard that Larsen even gave interviews to the media when police were inquiring about the cause of the explosions.
Prior to his arrest, Larsen was interviewed by BBC Wales and said people were "terrified'' by the explosions
"Items recovered by the police from his home and his computer reveal a most active interest in pyrotechnics and explosives," the prosecutor added.
Larsen denied the charges and told the court he was making fireworks, not bombs, which he had set off in his back garden.
He told the court he bought some chemicals for magic tricks and others for fireworks.
The former stonemason said he did magic shows for family and friends.