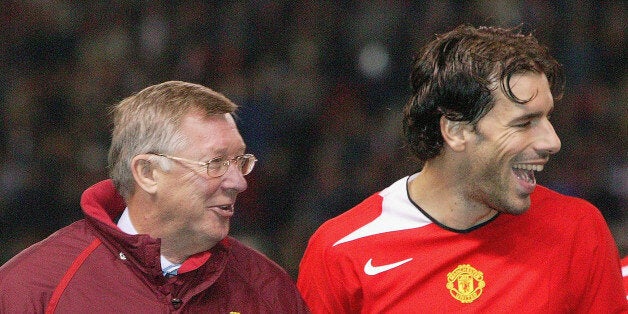 Marbella in October. Business is slow and the British influx is on hiatus, but a flying Dutchman has arrived. Usually when you knock on the door ahead of an interview you are greeted by a chirpy and overbearing PR representative, but the man who stands at the doorway of the Gran Meliá's penthouse has a very familiar face.
"Hi, how are you?" Ruud van Nistelrooy asks, beckoning me in.
Trim and dressed in a sharp white shirt and navy blue chinos, Van Nistelrooy's time in Spain with Real and, latterly, Málaga have gifted him an enviable tan. At 37, his looks belie his age and rather than opt for the still water ex-athletes favour he necks a couple of beers during our chat.
Journalists speak highly of Van Nistelrooy. Be it informal sit-downs or post-match observations, he was opinionated and open. "I always spoke to the press," he claims. His candour partly explains his immense popularity Manchester United fans.
Two of his friends, one an Ajax fan whom he met through their children being classmates in Spain, have joined him for Heineken's #ShareTheSofa campaign for Real Madrid's Champions League match with Juventus Wednesday evening. He now splits his time between Spain, a country he played in for over four years, and his native Netherlands, where he has an academy.
Van Nistelrooy answers the (sensible) questions with consideration and, refreshingly, without the aid of an agent to sugar-coat some of the more probing queries.
Cristiano Ronaldo, his former teammate at the Bernabéu and Manchester United, scores twice in Madrid's win to usurp Van Nistelrooy in the Champions League, née European Cup,'s all-time goalscoring list. The former United and Madrid striker scored 56 in 73 games for three different clubs.
Van Nistelrooy is terrific company. Affable and engaging, he lists one of his harshest critics, Arsène Wenger, as the first of three coaches he would invite to a dinner party, lauds Zlatan Ibrahimović's four goals for PSG (but mentions he did it against Sparta Prague nine years ago) and heralds Ronaldo's cool opener by casually raising his arms. He is soon eager to know about results elsewhere.
"What's the United score?"
Old Trafford's singing section trial for Real Sociedad's visit was staged in the away section and appropriately resulted in an away day's atmosphere. Around 1,400 United fans improved the Theatre of Dreams' nightmarish acoustics, serenading past heroes, including Van Nistelrooy. He's genuinely touched.
"Really? Ah, that's cool... That's fantastic... It's been a long time."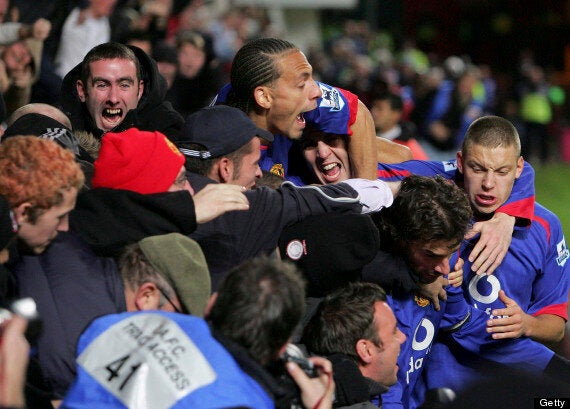 United fans (and players) clamber over Van Nistelrooy after an exceptional volley at Charlton, November 2005
It will not be the last time he struggles for words. United stir special emotions for Van Nistelrooy, whose mood is unaffected a day after Sir Alex Ferguson's book detailed how one of his greatest goalscorers swore at him during the 2006 League Cup final.
"'You ****,' said Van Nistelrooy," Ferguson writes. "I'll always remember that. Could not believe it... That was the end of him. He'd burned his boats."
Van Nistelrooy does not dispute any of Ferguson's recollections in his autobiography's eleventh chapter dedicated to him and is occasionally sheepish about the subject, albeit self-deprecatingly. Teasingly, he won't reveal what he called Ferguson on the Millennium Stadium bench, possibly out of politeness, and the pair have since made amends. Ferguson accepted a Van Nistelrooy telephone call in January 2010.
He clearly harbours regrets at how he left United, though. His departure was not as toxic as Roy Keane's or as newsworthy as David Beckham's, but both brought some closure to their Old Trafford careers. Keane was granted a sell-out testimonial in 2006 and Beckham, upon returning with AC Milan in 2010, received a memorable standing ovation which concluded with him collecting a green and gold scarf, a symbol of the anti-Glazer movement.
Sadly for Van Nistelrooy, his last appearance at Old Trafford was a goalless bank holiday Monday draw with Middlesbrough, in which he had a penalty saved. Ahead of United's final Premier League fixture with Charlton that weekend, Ferguson's assistant Carlos Queiroz paid Van Nistelrooy a visit at his hotel room.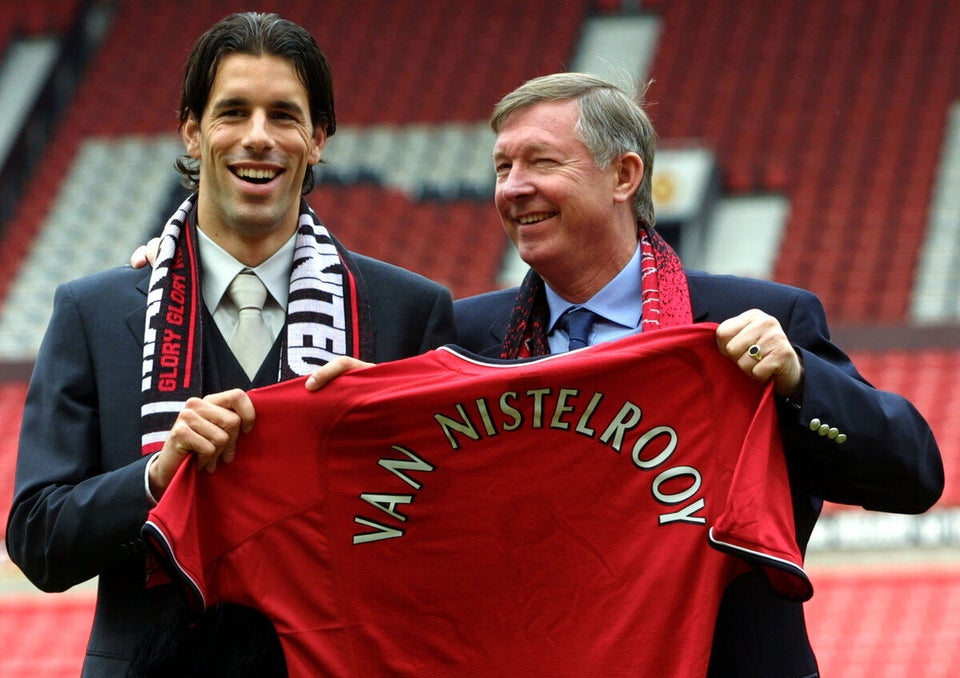 Van Nistelrooy and Ferguson
"We're not taking you, go home."
Was Ferguson justified in his treatment?
"I think..." Van Nistelrooy observes a Pinter pause. "Difficult to say because..." another mull. "The way he decided, what happened, it was... it wasn't an easy situation, in that sense. We both moved on like many players before me and after me, it's just the way it happened. I cherish those five years. It's the longest time I've played for a club in my career."
Instead, Van Nistelrooy fled to Holland to prepare for that summer's World Cup. He returned to United in July for a week's pre-season training but was soon jettisoned to Real Madrid for £10 million.
Van Nistelrooy is genuinely affected by the acrimonious denouement. It had been festering before that year's League Cup final, when Ferguson went berserk at him at Anfield for not reaching an over-hit pass the week before, which possibly convinced him to drop Van Nistelrooy for the Wigan final. He struck two goals in the final three months as Saha's scoring start against the Latics began a fruitful, but brief, partnership with Wayne Rooney.
There was no bitterness at Saha's promotion on Van Nistelrooy's behalf; he celebrated the Frenchman's goal with him on the sidelines ahead of an expected introduction. The League Cup triumph spared Ferguson a second successive trophyless season with United, something which hadn't happened since his first two full seasons in charge.
Van Nistelrooy joins in with the celebrations after United's second goal against Wigan
However, Ferguson granted Kieran Richardson and recent arrivals Nemanja Vidić and Patrice Evra a "smell of winning", which led to Van Nistelrooy's insult.
"After the third sub I just lost control and that wasn't supposed to happen, but it happened," Van Nistelrooy recalls. "I actually went out for a warm-up and was really ready to come on. It was three or four-nil, the game was over. It wasn't like we had won five Leagues and three FA Cups at the time, it was one League (2002-03) there and an FA Cup (2003-04), so I was very proud to be part of that day as a League Cup final, to make some minutes and get my share in that final."
"I was very, very disappointed not to be able to come on and not be a part of that day. Very disappointed. Deeply disappointed. I knew I wasn't going to play because I think I had two appearances reaching the cup final, it was the semi-final against Blackburn. That was over two games, wasn't it? So that was the two appearances before the final, so I was fine with not playing because the lads that had reached the final in the other rounds deserved to play, but I had really kind hopes of being part of that final, being on the pitch and celebrating with the fans."
Van Nistelrooy's rapport with United fans is a unique one. He is one of the few players in the club's history who is affectionately known by their first name. An unofficial list, Duncan, Denis, George, Norman Eric, Ole and Ruud are among them. Cantona and Solskjaer were with Van Nistelrooy for Ferguson's statue unveiling last year, a public olive branch.
"I was happy that I received the invitation," Van Nistelrooy says, "Which meant that, after the phone call, where we sort of came to terms with the moment he described in his book, where we sort of hung up the phone in a good way. Like 'Thanks, all the best, right,' matter closed. Then on top of that the invitation came, which was a welcome again which I accepted with great pleasure."
Despite being ushered out before he could make a goodbye speech, he is impassioned in his tribute to the supporters who still sing his name.
"Grateful, very grateful for their support, which lifted me in difficult moments and made me feel more confident in other moments," he gushes. "I felt like I always had a great relationship with them, a connection. You have moments that you take away for the rest of your life and hopefully that's the same for them as well."
Those moments included 150 goals in five seasons. Consistency like this made Van Nistelrooy's demotion in favour of Saha, a player whose injuries meant United were "walking on eggshells", a risk for Ferguson. But, like Keane, losing a fans' favourite benefitted the squad in the long-run.
Sandwiched between his final match for United and Queiroz's order was a training ground altercation with Cristiano Ronaldo. The Portuguese's early years at United were pockmarked by frustration expressed, usually by Van Nistelrooy or Gary Neville, at his erratic decision-making. At the Carrington training complex, Van Nistelrooy told Ronaldo to "Complain to your daddy", meaning his compatriot, Queiroz. Ronaldo's father had died eight months earlier.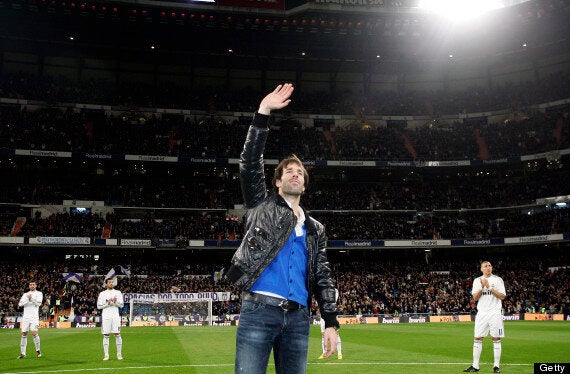 Ronaldo applauded Van Nistelrooy during his farewell to Madrid
There was no issue when Ronaldo joined Van Nistelrooy in Madrid, though.
"He was fantastic with that, fantastic with that. I think we dealt with that personally, him and me, very very good. We had a talk at the time, so it was dealt with straight away. It wasn't the case with the manager [Ferguson] where it sort of hung for years between us. With Cristiano it was dealt with straight away, so it was all good."
Van Nistelrooy took his children to watch Real for the first time at the weekend, but Manchester has become a pilgrimage for him. "Yeah, it's yearly, I visit the town, friends, most of all, and usually go and watch a game as well. It's definitely one of my targets to visit Manchester again, and to watch a game and meet up with friends."
But who will his children end up supporting?
"Well, my girl... she's seven. She's fine! But no, of course when we're there [Manchester] and try to tell them where we lived and where I played, their interest goes out towards United."
Heineken's #ShareTheSofa campaign is happening every Uefa Champions League match week, on a Wednesday. To tweet a question to a Uefa Champions League legend, simply tweet your question using #ShareTheSofa @Heineken. The next UCL legend taking over the handle os Hernan Crespo.
Popular in the Community