A campaign challenging prejudices against skin colour in India is gathering pace.
Dark is Beautiful seeks to redress the hierarchy of skin tone in India's social caste system and eventually halt the sale of controversial skin lightening products.
Actress Nandita Das is a poster girl for the campaign and tells AFP: "Magazines, TV, cinema, everywhere being fair is synonymous with being beautiful.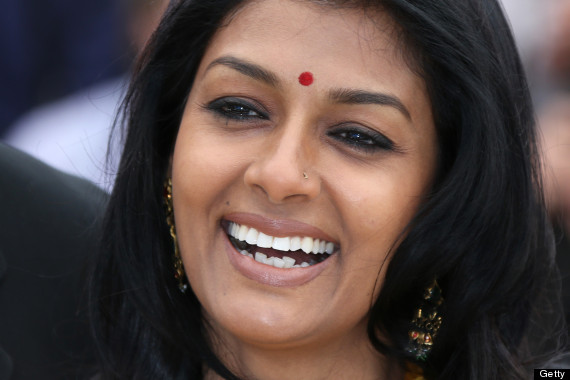 Indian actress Nandita Das is a poster girl for the Dark Is Beautiful campaign
"I started getting tonnes of emails from young women pouring their heart out about how they were discriminated against.
"Some wanted to commit suicide because they couldn't be fair."
In India Dalits, formerly known as the Untouchables, tend to have darker skin, are said to be the bottom of the social hierarchy and are often ostracised and forced into menial jobs.
SEE ALSO:
The fair-skinned Brahmins are generally considered to be the highest caste group, although laws banning discrimination on these terms have failed to make much difference.
There are a host of skin-lightening products on the worldwide market, and business is big in India, thanks to endorsements from Bollywood stars such as Shah Rukh Khan, who features in an advert (below) where he tosses a tube of Fair and Handsome cream to a young male fan, whose skin grows whiter before our very eyes.
As well as facial and body skin-lighteners, there are also feminine hygiene products which promise to "brighten" the skin around the vagina – including Clean & Dry Intimate Wash, which claims"Life for women will now be fresher, cleaner and more importantly fairer and more intimate."
In 2010, India's whitening-cream market was worth $432m, according to a report by market researchers ACNielsen, and was growing at 18% per year
The Dark is Beautiful project campaigns against "the toxic belief that a person's worth is measured by the fairness of their skin."
And it's battling for the dignity of men and boys too.
The movement is currently championing a petition on Change.org to call on Emami, the cosmetics company behind Fair and Handsome (as well as brand ambassador Shah Rukh Khan) to "suspend this discriminatory ad campaign" and "know that our country is ready to shed age-old biases and let every person feel comfortable in their own skin."
Das, who revealed she even found a photograph of herself for the Dark is Beautiful campaign lightened by one newspaper, describes the whitening cream adverts as "so regressive and derogatory."
"You're telling people they're just not good enough," she adds.
As Kavitha Emmanuel, director of Women Of Worth which founded the campaign, surmised in a recent blogpost: "Our goal is not to point fingers but to rather instigate and inspire change. It's time for a new wave of thinking towards skin colour. It's time to redefine beauty. Not based on skin colour, but on a person's innate worth."
You can sign the Dark is Beautiful petition here and show your support on twitter using the hashtag #disbcampaign