The BBC has defended a joke about Prince Harry that has seen a comedian accused of an "outrageous" slur.
Jo Brand made the quip on Have I Got News for You as panellists discussed the christening of Prince George.
Referring to one of the prince's godparents, Hugh van Cutsem, Brand, who was hosting the show, said: "George's godparents include Hugh van Cutsem... I presume that's a nickname as in Hugh van cuts 'em and Harry then snorts 'em."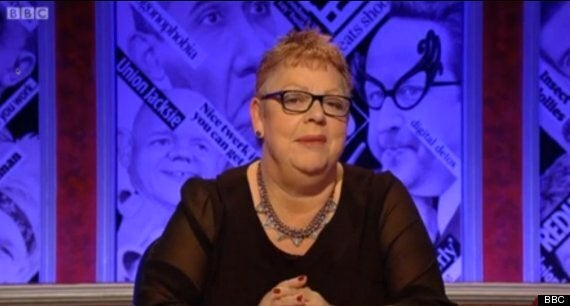 Jo Brand was presenting the news quiz
Regular team captain Ian Hislop asked: "Have we lost the lawyers?".
Former head of the Army Lord Dannatt told the paper: "It might have been said as a joke but the suggestion is outrageous. It is a very unfortunate joke to make and most inappropriate."
And Tory defence minister Anna Soubry added: "That is disgraceful, shoddy, appalling and out of order. Prince Harry does an outstanding job in the Army and always goes the extra mile to help wounded service personnel and veterans.
"Jo Brand should not have stooped to that level and both she and the BBC should apologise.
"It is a really cheap shot at somebody who has no right of reply and they know will not sue for libel."
A BBC spokesman said: "Have I Got News For You is a satirical news quiz and the audience is used to the often irreverent humour. This was clearly a tongue-in-cheek comment."
Related