In a scathing critique of the new building set to open next year, Banksy says the One World Trade Centre is a "betrayal of everyone who lost their lives on September 11."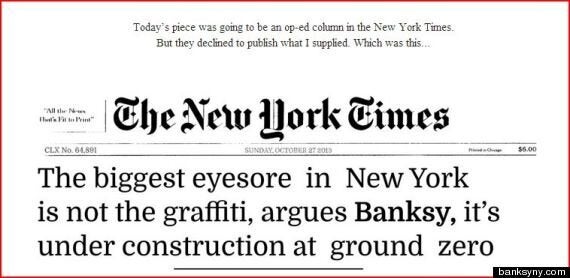 He adds: "That building is a disaster. Well no, disasters are interesting. One World Trade Centre is a non-event.
"It's vanilla. It looks like something they would build in Canada.
"The attacks of September 11 were an attack on all of us and we will live out our lives in their shadow. But it's also how we react to adversity that defines us. And the response? 104 floors of compromise?
"It looks like it never wanted to be built in the first place...It reminds you of a really tall kid at a party, awkwardly shifting his shoulders, trying not to stand out from the crowd. It's the first time I've ever seen a shy sky-scraper."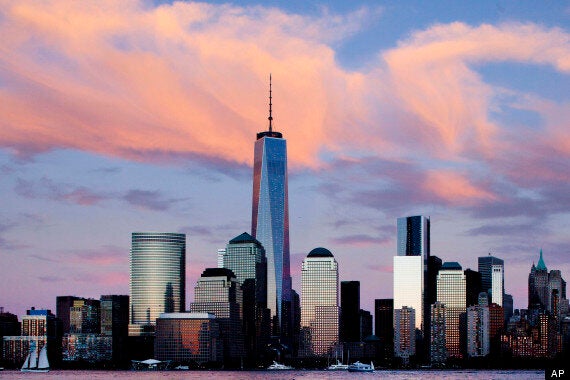 The nearly completed One World Trade Centre
Murphy added: "What he has posted on his site is not exactly the same as what he submitted."
He added: "He's just a graffiti artist. What does he know? It's a modern building."
Banksy is close to completing a one-month residency in the city which has seen him create a new piece of work on the streets of New York every day during October.
During his op-ed, he adds: "It would be easy to view One World Trade Centre as a betrayal of everyone who lost their lives on September 11, because it so clearly proclaims the terrorists won. Those 10 men have condemned us to live in a world more mediocre than the one they attacked, rather than the catalyst for a dazzling new one."
Addressing the city directly, he writes: "One World Trade declares the glory days of New York are gone. You really need to put up a better building in front of it right away... Because you currently have under construction a one-thousand tall foot sign that reads – New York – we lost our nerve."
The acclaimed artist is already garnering support for his controversial comments among his fans on Twitter: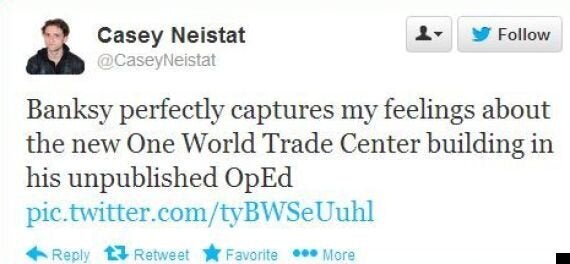 Known locally as Freedom Tower, the structure's 1,776ft height is a reference to America's independence and towers above a memorial to those 3,000 people killed when two planes, piloted by al Qaeda hijackers crashed into the Twin Towers, causing both buildings to collapse.
A 408ft spire atop it will serve as a broadcast antenna, and offices, observation decks, restaurants and a museum will be housed in the building.
The $3.9billion tower is anticipated to open in 2014, and tenants include Vogue publisher Conde Nast and the government's General Services Administration.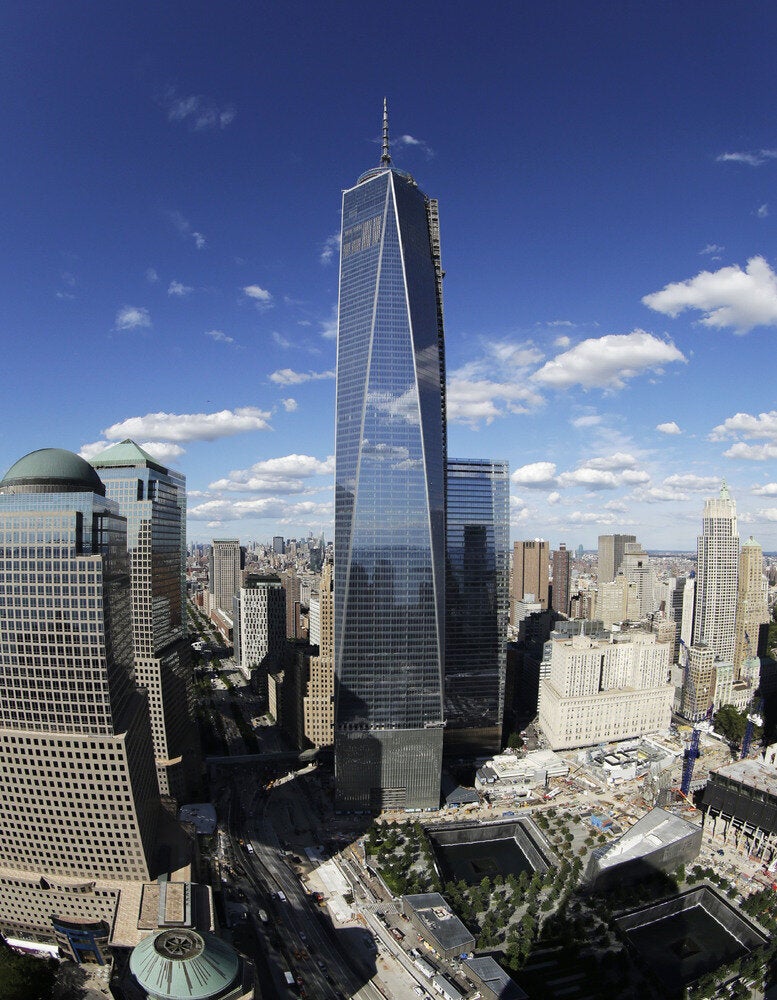 One World Trade Centre