Three people have reportedly been killed and 11 injured in China after a vehicle ploughed into a group of pedestrians in Tiananmen Square in the capital, Beijing.
Shocking images posted online showed a vehicle in flames, amid barricades in front of the iconic Tiananmen Gate.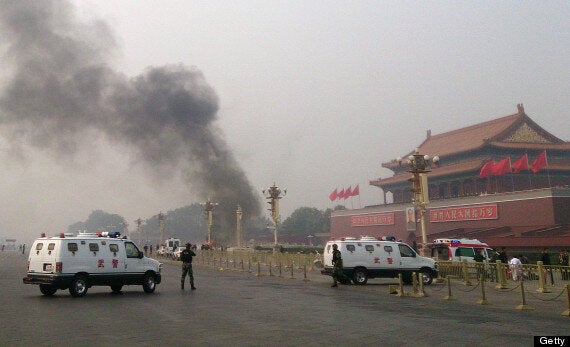 There has been no explanation so far about the cause of the crash.
The area around the square is one of China's most closely guarded and politically sensitive public venues.
It was the scene of the 1989 pro-democracy protests which were ended by a brutal military crackdown.
The site is generally kept under very tight security both because of its proximity to key political institutions and so that is does not serve as a hub for protesters and petitioners.
Chinese Foreign Ministry spokeswoman Hua Chunying declined to say whether the government believed it was a terror attack. She said she did not know the specifics of the case and refused to comment further, Sky News reported.
But around 120 people have set themselves alight since February 2009 in Tibet and adjoining regions of China, in protests against Chinese oppression.
In 2011, a man set himself on fire at Tiananmen Square following what officials said was a legal dispute, close to the square's portrait of Chairman Mao.
Two years before that, three people set themselves on fire in a car at a busy intersection near Tiananmen Square over what the authorities called personal grievances.
In 2000, several members of the banned Falun Gong spiritual movement were arrested for protesting at the square.
Fire extinguishers can be found at the site, and have been used when protestors set themselves on fire.
Sky's China Correspondent Mark Stone said local reports described today's incident as an "accident", but he said many people would find that hard to believe given the "politically-sensitive" location.
"The location of the incident couldn't be more significant. It's right underneath the portrait of Chairman Mao on the Tiananmen Gate at the entrance to the Forbidden City. It is the most symbolic location in China," he said.
In a microblog post on its verified Sina Weibo account, Beijing police said that "the injured people were all sent to a nearby hospital".
"Police at the site immediately launched rescue efforts, and the fire was quickly extinguished... the situation is currently being investigated further," the police added.
News of the incident first appeared on social media from those who were at the scene, but it appeared that some pictures were being quickly removed, the BBC reported.
AFP news agency said that two of its reporters were also held close to the square, with images deleted from their cameras.