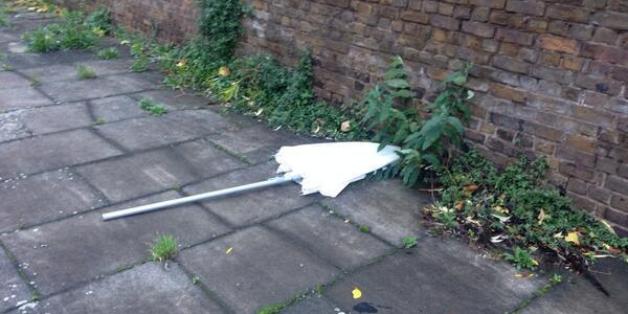 Twitter
Come, rain, sunshine, snow or strong gusts of wind, Britain is pretty crap at coping.
So, as St Jude – dubbed 'the Great Storm of 2013', or 'Stormageddon' – causes devastation as it sweeps across Britain, many have reacted sceptically.
READ MORE:
While Scandinavia cheerfully copes with adverse weather conditions on a daily basis, hundreds of thousands of homes across the UK have today been left without power, while rush-hour commuters were left stranded this morning as the country collapsed into chaos.
Unimpressed Britons, unsurprisingly, have been left irritated by the "worst storm to hit Britain in five years."
Shi this storm just got real...#ukstorm2013 pic.twitter.com/b512MJ58Hn

— Jamal K. (@_JamalAwolarger) October 28, 2013
Umbrella down... Oh the humanity... #ukstorm pic.twitter.com/yPDzVvS6te

— Paul Hutchinson (@paolohutchi) October 28, 2013
Trees are falling down. They die. Oxygen supplies are gonna run out. Death is near #UKStorm2013

— Tanvir Ali (@tanvir91) October 28, 2013
In England it's called #UKStorm2013

Everywhere else, it's called wind

— Rueben Mason-Fooks (@RuebenMF) October 28, 2013
Genuine storm damage in my neighbour's garden #ukstorm pic.twitter.com/DC2dsFHPns

— Elliot Wagland (@elliotwagland) October 28, 2013
We will all pull through this national tragedy. We will rebuild. #UKStorm2013

— Melissa Burbage (@MelissaBurbage) October 28, 2013
#UKStorm2013 pic.twitter.com/bo4WjxLfoO

— emily (@emilyganley) October 28, 2013
McDonalds clearly not lovin' what #storm2013 did to its sign #stormageddon pic.twitter.com/tgBdXA42jH

— Asa Bennett (@asabenn) October 28, 2013
If there's anybody out there... anybody... please. You are not alone. #UKStorm2013

— Matthew Bragg (@BraggyBRFC) October 28, 2013
TOP NEWS STORIES TODAY
Weather complaint, tea reference, pets the real victim: 100,000 England points (thanks Adam Clery):
In love with Sue from Wiltshire who rang 5Live to say she couldn't have a brew this morning and had to feed cat in dark.

— Josh Halliday (@JoshHalliday) October 28, 2013
Even our own offices at Huffington Post UK HQ were not left unscathed:
Stormageddon's first victim: @SkyNews is down at @HuffPostUK. Will the chaos ever end. #ukstorm #UKStorm2013 pic.twitter.com/V7ESmug9Ck

— Charlotte Meredith (@CHMeredith) October 28, 2013
The Daily Mail's readers have typically united as the country is thrown into chaos:
Great to see the country coming together at a time of adversity- the Blitz spirit lives on #ukstorm #stormageddon pic.twitter.com/MfjcUOAVhK

— Daily Mail Comments (@BestoftheMail) October 27, 2013