Hundreds of thousands of homes have been left without power and rush-hour commuters suffered transport chaos as hurricane-force conditions battered Britain.
David Cameron called the injuries and deaths "hugely regrettable" but praised the preparation and response of emergency services. People watch the waves batter into the sea wall of a marina in Brighton, south England
On a visit to the Mini plant, the Prime Minister told reporters: "The emergency services, as ever, do a brilliant job. These are difficult things to handle because you don't know for certain how strong the storm will be.
"That really is the advice to people: things will get back to normal but make sure you consult the relevant websites before you travel."
A man in his 50s was killed when a tree fell on the car he was driving in Watford, at around 6.50am, Hertfordshire Police said. Officers closed the road to deal with the incident but the man, from Harrow in north west London, was pronounced dead at the scene.
Meanwhile, a 17-year-old girl was killed in Hever, Kent, when a tree blew on to the caravan where she was sleeping at 7.18am. The teenager, named by sources as Bethany "Gia" Freeman, was crushed as the 30ft tree fell down in Lydens Lane, Hever, near Edenbridge, Kent, at 7.18am.
Bethany and her family were living in the caravans while renovation work was taking place at their home, according to two neighbours.
One of them, who declined to be named, said: "(The family) were planning to join up their two buildings, and they were living in the caravans in order to do it.
"I don't know who else was there. At the end of the day the tree has come down. I won't criticise anyone working there but not one of the emergency services had a chainsaw.
"It came down to the locals having chainsaws in order to cut a gap and also the local farmer having lifting gear."
Five people and three dogs escaped from the properties before firefighters arrived and a man and two women were taken to hospital by London Ambulance Service. Two bodies were found by urban search and rescue crews, who searched the properties for any survivors.
Station Manager Matt Burrows, who was at the scene shortly after the incident, said: "Three houses were completely destroyed in the blast, debris was scattered over an area of about 50 metres, and the roof of one of the houses was in a tree across the road. Highly trained search and rescue crews searched through the rubble with sniffer dogs, and sadly two people were found dead.
"We're still investigating whether the fallen tree caused the gas explosion or whether the gas explosion caused the tree to fall. It's likely firefighters will be on scene for much of the rest of the day." Rescue teams, including a Coastguard helicopter and an RNLI lifeboat, scoured the area in what were described as "atrocious conditions" with poor visibility.
An MCA spokeswoman said rescue teams had struggled in difficult conditions, and that police were with the boy's family who were "distraught".
Several other people have been injured by falling debris. London Ambulance said a man in his 40s was taken to hospital with a shoulder injury after a tree fell on his motorbike in south-west London.
Up to 220,000 homes suffered power cuts as St Jude's storm with winds of almost 100mph pushed across the South West, South, South East, the Midlands and the East of England, UK Power Networks said.
Falling trees and other debris covering railway tracks caused travel misery for thousands of commuters, with trains and London Underground services suspended.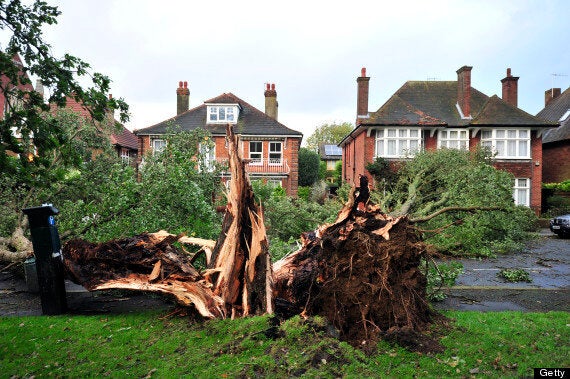 A fallen tree blocks a road due to the overnight storm in Brighton, southern England
On the London Underground, only three lines - Victoria, Hammersmith & City and Waterloo & City - were operating normally through the morning rush-hour.
There were no trains at all running on London Overground, while there were part -suspensions on the Central, District, Metropolitan and Piccadilly lines.
Asked if the train companies had overreacted to the risk posed by the storm, the Prime Minister said it was important that decisions were based on the evidence.
He said: "Everyone has to act on the basis of the evidence that they are given."
But he added: "Obviously afterwards we will be able to look back and see whether people made the right decisions.
"But right now what matters is listening to the evidence, working together and getting things back to normal."
The port of Dover in Kent had to shut, more than 130 flights at Heathrow Airport were cancelled and many roads were impassable due to fallen trees. A tree blocks the pavement outside the disused Strand station, London
The weather forecaster who famously failed to forecast one of Britain's worst storms in living memory joked that people would say it served him right that today's wind blew down a tree in his garden.
Michael Fish - who told television viewers there was not a hurricane on the way hours before a huge storm ravaged parts of England in 1987 - said even his wife blamed him for the damage.
But he also hailed the accuracy of new computer models which he said had allowed the Met Office to predict the latest weather front and prevent "horrendous loss of life".
"I had a phone call from my wife not so long ago and of course it was my fault that a tree has apparently gone down in my garden and over the neighbour's garage," he told BBC Radio 4's Today programme.
"So even I don't escape and I can hear some of you saying 'serves him right!'."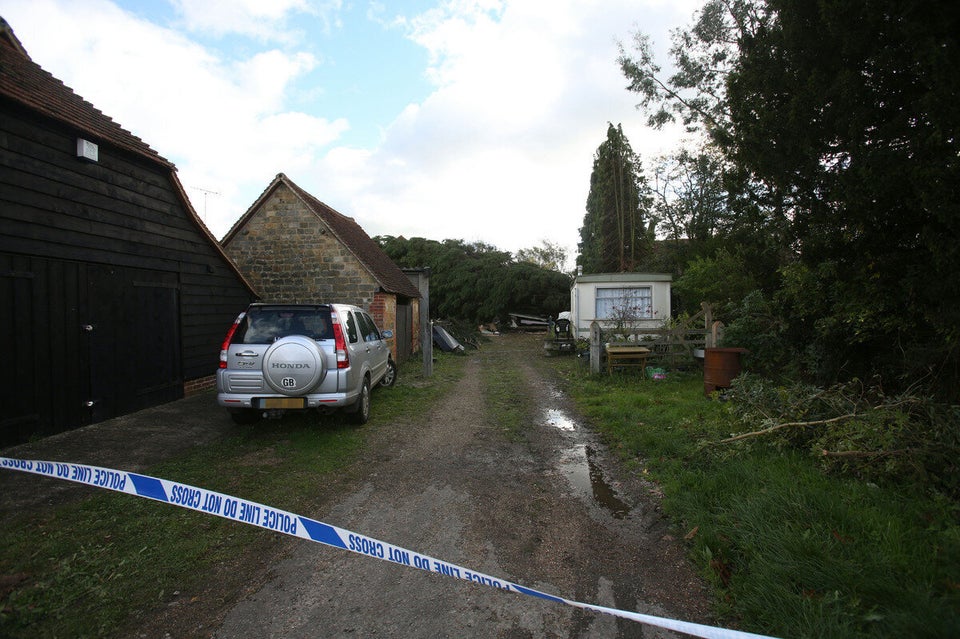 St Jude Storm - UK Weather