The family of Ben Needham, who went missing on the Greek island of Kos 22 years ago, have said they are spending his 24th birthday waiting for the results of a DNA test on a young man who has come forward.
A man who handed himself in to authorities in Cyprus this week has facial similarities with reconstructions of how Ben may now look, the family said.
He came forward after a video emerged of him at a church in Limassol, on the island. Ben's family, from Sheffield, said he had now been DNA tested and they believe the results may be available on Wednesday.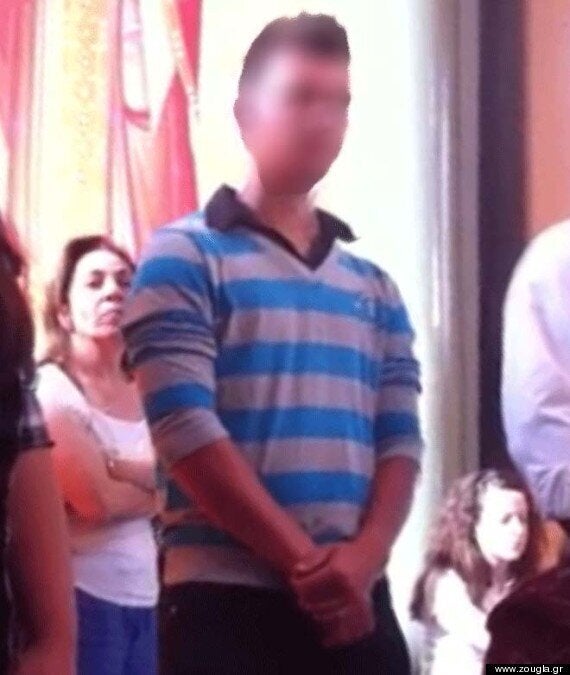 The blurry image of the man released on the Greek website
In a statement posted on the official Help Find Ben Needham Facebook page yesterday, his mother, Kerry Needham, said: "I have just heard from Greece that the young man in the video has handed himself in to Greek authorities.
"He claims he is Romanian and was working in Limassol. The gypsies who were in his company are his girlfriend's family as she is Roma. He has willingly given DNA, so we are waiting on a result."
A spokeswoman for South Yorkshire Police said: "South Yorkshire Police have released the DNA of Ben Needham to the Cypriot authorities at their request.
"The case of Ben Needham continues to be investigated by the Greek authorities and South Yorkshire Police continues to support his family."
She said the family wanted to be left alone today, as they marked Ben's birthday.
Ben vanished on July 24, 1991 after travelling to Kos with his mother and grandparents, Eddie and Christine, who were renovating a farmhouse in the village of Iraklise.
Over the years there have been a number of possible sightings and a range of theories about what happened to him.
Last year a major new police operation focused on a mound of earth and rubble close to where Ben was last seen but no trace of him was found.
Earlier this week, Ben's mother said she was thrilled by the news of the Bulgarian girl found with a Roma family in Greece, who was taken by investigators after DNA tests proved she was not their child.
Police have raided dozens of Gypsy settlements across Greece in the last few weeks, including four more camps Monday in Athens and Thessaloniki — triggering concern by human rights groups that the Gypsy community as a whole was being targeted for an alleged crime involving a few of its members.