A boutique baby shoe designer, who specialises in "atheist" designs, has had two adverts featuring a same-sex couple barred from Facebook.
Atheist Shoes, who are based in Berlin, attempted to purchase an advert on the social networking site for their Kickstarter campaign to fund their shoes, which have the logo "I Believe In Mummy" or "I Believe In Daddy".
But the company's David Bonney told HuffPost that the ad, which is photo of two men holding hands with the slogan "Just to be clear, we're definitely very positively also making shoes for the babies of same sex couples…' was deemed to "violate Facebook's guidelines".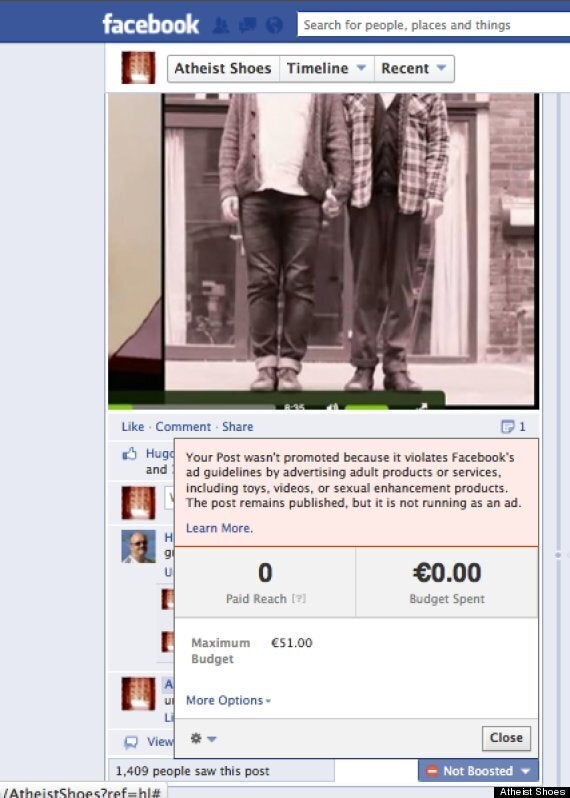 The message that appeared
The Facebook Ads Team emailed the designers after they made a complaint to the company, explaining they had removed the ad because:
"Your ad references Facebook in the title, body or destination. Ads may not suggest that Facebook supports the product, service or destination page. Ads may not copy Facebook features (ex: Like) or use Facebook icons, images, trademarks or copyrights (ex: Facebook, the Facebook, FBook, FB, Poke, Wall). Only ads for Facebook Pages, groups, events, apps or Connect sites may make limited references to Facebook."
Bonney said two ads were submitted, neither mentioned Facebook and both were rejected. The reply from Facebook "seemed automated and made no sense whatsoever - their initial reason for rejecting the ad was sexual content, and then this further email said it was because we mentioned "Facebook", which we didn't."
"We're sure the ad wasn't rejected because of the word 'sex' in the copy, we tried to post it again later, without the word sex, and it was still rejected.
"This has been a huge disappointment to us, and we are eager for Facebook to come forward and explain their decision."
"It's so nice to see Miley Cyrus naked on a demolition ball and at the same time have an image of two men holding hands forbidden."
Facebook did not respond to requests for comment from HuffPostUK.
Related