'Dog-eat-dog' News of the World journalists hacked the mobile phones of journalists at rival papers, to see if they had picked up their scoops, a jury was told on Thursday.
Jurors at the Old Bailey in the trial of former News International chief executive Rebekah Brooks, ex-spin doctor Andy Coulson and other journalists at the now-defunct paper, were told that the newspaper was trying to get a "scoop" about Lord Prescott's affair with his secretary Tracey Temple in April 2006.
Prosecutor Andrew Edis QC described a series of phone calls, emails, and phone hacks that he said was private investigator Glenn Mulcaire trying to get information at the behest of the NotW.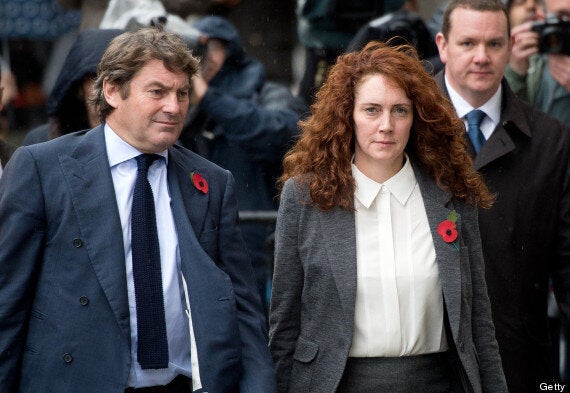 Rebekah Brooks, former News International chief executive, and her husband Charlie arrive for the phone-hacking trial at the Old Bailey
The jury also heard that journalists at the paper, including James Weatherup - who has already pleaded guilty to hacking charges - and Coulson, discussed trying to contact Temple to offer her £100,000 for her story.
Records showed that they then tried to hack the phone of Lord Prescott's special adviser, Joan Hammell.
The court was told the NotW hacked journalists from rival paper the Mail on Sunday - Dennis Rice and Sebastian Hamilton - to find out what information they had on the story.
"This was all about finding out how the competition were getting on with the story because, of course, you don't want to be scooped," Edis said.
"One nice easy cheap way of finding out what they know is to hack their phone so that the competition don't get to steal a march on you.
"In the dog eat dog world of journalism, in a frenzy to get this huge story or try to get something better or at least as good as what everyone else has got, that's what you do, perhaps, if you are [former NotW head of news, also on trial] Ian Edmondson. You hack the competition."
Edis said that when the News of the World found out the Mail on Sunday was hoping to run the story, the paper concluded: "We are going to spoil that by doing our own story.
"We know how they were planning to do the spoiler - it was by hacking other journalists."
Continuing his case opening, which started on Wednesday at the Old Bailey, Edis said other than a few "taskings" by the News of the World in 1999, the first dated tasking of Mulcaire by the newspaper was 8 January 2001.
He said an investigations team at the tabloid was set up by Brooks when she became editor, and both Mulcaire and former NotW journalist Greg Miskiw, who has also pleaded guilty to hacking, were part of it.
The court heard on Wednesday the private investigator was paid around £100,000 a year for his services.
"It was not hidden from anybody that he was being paid all that money because of course the money has to go through an accounting system, it is budgeted for, it's seen.
"The question is, didn't anybody ever ask, what are we paying this chap for?
"So what was it that he was doing? Well, we know that he was a phone hacker and we know that he was a good one, and we know that he was an accomplished blagger."
In the brief recording played to the court Mulcaire, who has already pleaded guilty to charges of phone hacking, contacts O2 to ask for a voicemail reset - a method it is alleged could be used to access people's voicemails.
The court heard that the police investigation into phone hacking in 2011 was sparked by the discovery of three emails that News International gave to officers.
The messages were from Mulcaire to Edmondson, and it is alleged they were about hacking phones linked to Tessa Jowell and David Mills; Lord Frederick Windsor, son of Prince and Princess Michael of Kent; and Prescott's advisor.
"Look how much contact there is at this time between Mr Edmondson and Mr Mulcaire," Edis said, referring to phone records.
"Do you think it is likely or even possible that Mr Edmondson did not know what was being done by Mr Mulcaire?
"We know that Edmondson was interested in Tessa Jowell, he was investigating Tessa Jowell, and we know that he was in communication with Mr Mulcaire.
"We know that Mr Mulcaire hacked Tessa Jowell's phone and listened to her messages."
"This was an important story. It wasn't something that was stuck after the letters page, this was big stuff."
The prosecutor said it was the editor's duty to ask "How do I know this information is true?" when stories were going to appear in the newspaper.
"Mr Coulson was editor at this time," he told the jury.