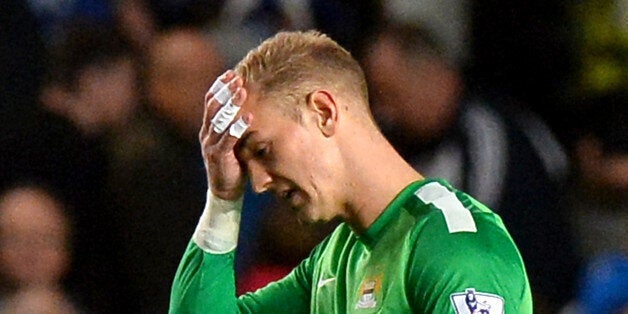 Joe Hart has finally been dropped by Manchester City coach Manuel Pellegrini for the weekend visit of Norwich City.
Fernando Torres' winner for Chelsea against City last week ultimately persuaded Pellegrini to omit the England goalkeeper from the starting XI. Hart rashly dashed out of his box during a mix-up with defender Matija Nastasić, gifting Torres only his second Premier League goal of the calendar year.
PICTURES: 16 JOE HART MISTAKES IN THE LAST 18 MONTHS
Hart's form has actually regressed since the pivotal role he played in City's 2011-12 title-winning campaign, when then-Manchester United manager Sir Alex Ferguson heralded his form.
But since he conceded Samir Nasri's saveable equaliser in England's opening European Championship match last summer his form has plummeted.
Former City coach David Platt revealed earlier this season Pellegrini's predecessor Roberto Mancini had decided to sign Stoke City's Asmir Begovic, having become frustrated with Hart's errors.
"It's not strange because he did two or three mistakes this year and this is not good for us. Joe is a good keeper but a goalkeeper can't do a mistake like this," Mancini told the Guardian earlier this year when asked about a blunder he committed at Southampton.
Hart's relationship with Mancini became uneasy when he lamented City's galling loss to Real Madrid in the Champions League last year.
"You have got to be able to move on," Hart said in March. "Everyone is going to have their opinion, you have to take it as best you can, for what you are trying to achieve and move on from there. He is free to do his press conferences as he feels and if he feels you are not up to it..."
Related