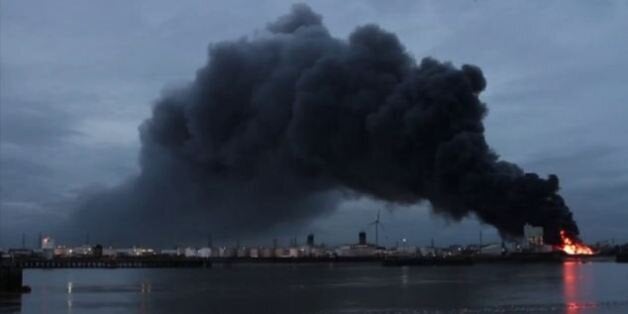 The president of the Chief Fire Officers Association has described the actions of striking firefighters who walked away from a major blaze in east London as "shameful", reports Sky News.
Paul Fuller urged them to "reflect" on their behaviour and the impact of their actions on their relations with the public.
"Yesterday I said that I didn't agree with strike action in the fire service, but last evening, firefighters all over this country exercised their right to do that with professionalism and dignity, which is the same dedication and courage they use in support of our communities every day," he told Sky News.
"What we saw a few firefighters do at Dagenham last night when they walked away from an incident in progress I think was shameful, and they should be ashamed of that."
Union leaders today urged the Government to reopen talks over firefighters' pensions in an effort to resolve the row.
The Fire Brigades Union praised its members in England and Wales for their "unity and determination" during a walkout from 6.30pm to 11pm yesterday.
A further stoppage is planned from 6am to 8am on Monday.
FBU General Secretary Matt Wrack said: "Firefighters have once again shown their determination to defend their pension rights and to campaign for a pension which reflects the job they do.
"We hope Government will now sit down and negotiate a settlement to this dispute.
"So far ministers have completely ignored the evidence in front of them. We hope this action will finally open their eyes."
Around 1,500 tonnes of scrap metal in the open air was destroyed and smoke from the fire was visible for more than 20 miles.
The brigade said it expected FBU members to remain at the scene because of the seriousness of the incident, but the union said it was not life-threatening.
Mr Wrack said: "The management of the London Fire Brigade has been telling everyone for weeks that they have adequate arrangements in place in the event of a strike but they seemed incapable of putting them in place in good time yesterday.
"That was their responsibility, not the responsibility of frontline firefighters due to take strike action. Our members deal with incidents like that regularly and it was entirely foreseeable and should have been planned for by those in charge."
The London Fire Brigade received 124 emergency 999 calls during the strike, with replacement crews attending 17 incidents in the capital, including the one at Dagenham. Other incidents attended include eight primary fires and nine false alarms.
Brigades across the country had urged members of the public to put off any firework displays in their own gardens until tonight or go to an organised event.
The union fears firefighters will be made redundant if they fail fitness tests and are unable to find other work in the fire service.