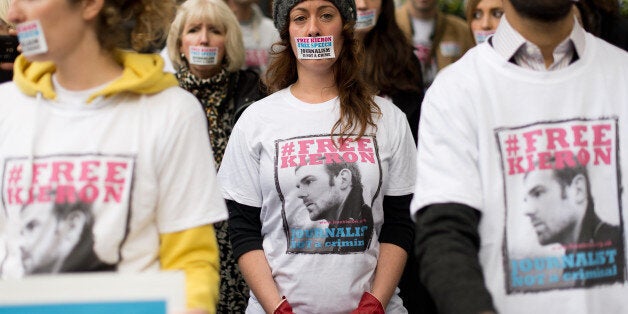 A "silent call" for Russia to release a detained British journalist who was imprisoned for covering a Greenpeace protest has been launched in London today, as his mother said she hopes "common sense, and a sense of fair play and justice" will prevail.
Videographer Kieron Bryan, 29, from Devon, was among 30 people including six Britons who were held when armed Russian officials boarded their vessel, the Arctic Sunrise, in September.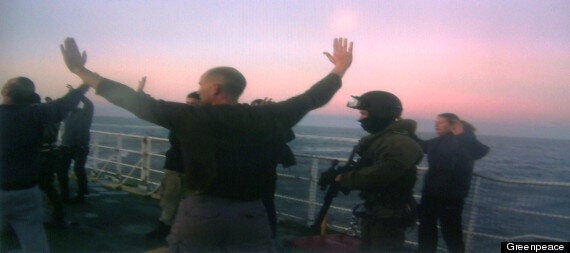 The activists said the Russian officials pointed guns at them
The six Britons, including Mr Bryan, who was documenting the protest, were being investigated for piracy, but were later charged with hooliganism.
At a silent protest outside the Russian Embassy in London, Mr Bryan's mother Ann today said the country has made its point and said her son should be released.
"Punishment should fit the crime and for what happened that day I think they've more than served their punishment," she said.
Adding: "I just hope that common sense, and a sense of fair play and justice, will come out of this."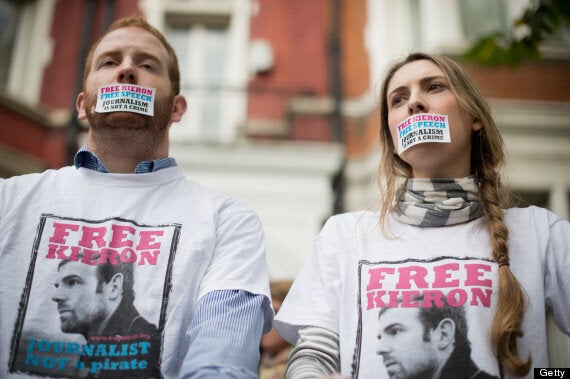 Thousands of protesters across the UK have demonstrated in outrage at the charges
Mrs Bryan, her husband Andy and son Russell were joined by journalists and freedom of speech campaigners at the embassy near Notting Hill as they handed in a petition signed by 1,400 people in support of Mr Bryan's release.
About 40 supporters wore stickers across their mouths, while a significant number of camera crews, reporters and photographers looked on.
The signatures are from hundreds of UK journalists, including editors on national newspapers.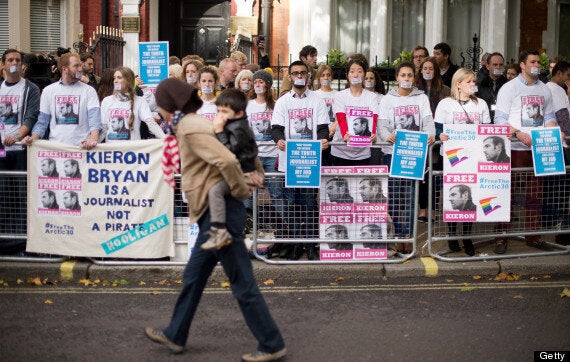 Mrs Bryan last spoke to her son on the phone two weeks ago, and they have since exchanged emails and letters which have had to go through translation and approval stages, she said.
"At that point he seemed calm and strong. He was trying to be positive.
"Today we're not so sure because we've heard that they are now being moved to St Petersburg, so that's another upheaval for them.
"They're probably wondering why and what does it mean, which is exactly what we are as well," she said.
Greenpeace International executive director Kumi Naidoo said the 30 men and women were facing jail time simply because two peaceful protesters had tried to hang a small yellow banner from the side of a 500,000-tonne oil platform.
"First this saga shocked people across the world, now it has descended into farce,'' he said.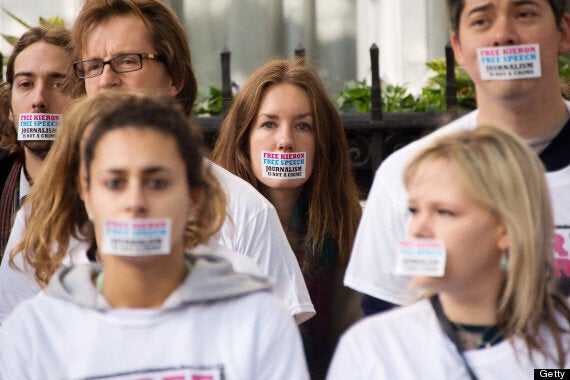 Protesters gather outside the Russian Embassy
Mr Naidoo said Greenpeace had been told by diplomatic sources the Arctic 30 had been moved from a detention centre in Murmansk to a jail in St Petersburg.
A Foreign and Commonwealth Office spokesman said the British Government was aware of the claim and was investigating further, but was yet to confirm it.
Last month Dame Vivian Westwood and Jude Law were just two of the thousands of demonstrators across the UK who demonstrated in outrage at the piracy charges against 30 Greenpeace protesters.
Related