An eight-year-old llama named Serge had a riotous night out with five French teenage boys last week.
Serge, who is a member of a Bordeaux Circus, was peacefully snoozing in his cage when he was sprung free on Thursday night.
His adventure saw him taken onto the subway system, Sud-Ouest reported.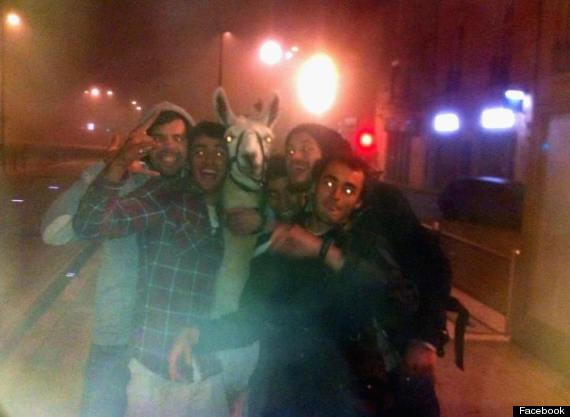 Serge and his liberators pose for a snap
One of the teens, who identified himself as Mathieu, told the newspaper: "[We] love animals; it walked it with us as a good dog would have done."
Mobile phone footage shot on the night shows Serge riding the rails and then being tied to a lamppost.
Serge's companions were arrested for the prank and are facing prosecution.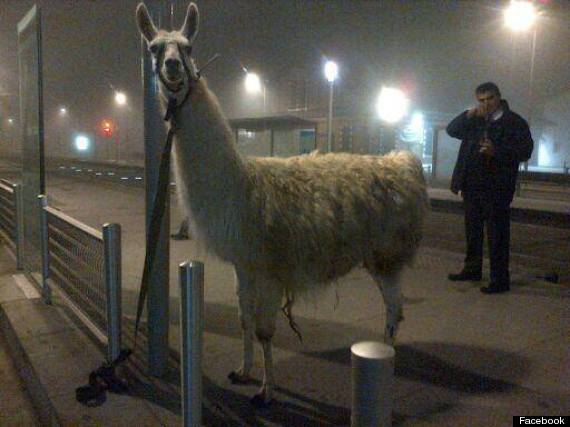 The eight-year-old llama rode the subways of Bordeaux
Meanwhile we're happy to report that Serge is absolutely fine – as the photograph below of him being reunited with circus owner John Beautour illustrates.
And the adventurous llama is now the stuff of internet legend – with a dedicated Facebook page clocking up more than 729,000 likes as well as a call for the young men not to face charges.
He also features in his very own Tumblr account. Serge has been reunited with circus owner John Beautour
Beautour, however, is not impressed with the group's exploits, and says he plans to file a legal complaint.
He told BFM TV: "They should be made aware that to take an animal under the effect of alcohol just to have fun on a public causeway could have ended very badly for all concerned."