Job Title: Fourth Year Electronic Engineering Apprentice
Training: Higher Engineering Apprenticeship
What's a typical day like for you?
I am working on a cable form projects as a manufacturing engineer and I start work any time between 7:00am and 9:30am as we operate on flexi time. A general working day involves planning for new cable manufacture, working to hit deadlines and solving problems which occur. I also attend meetings where I am informed of targets and wider changes. I leave between 15:30pm and 18:00pm. One day a week I attend college.
Why did you decide to become an apprentice?
I decided to become an apprentice after 3 weeks work experience at MBDA. Before this I was in school not knowing what I wanted to do after my GCSEs. I knew I didn't want to work in retail or other industries so decided to apply for work experience in engineering. It was really interesting and showed me what an apprenticeship involved, including gaining significant qualifications, being paid a good wage and getting hands on experience at the same time.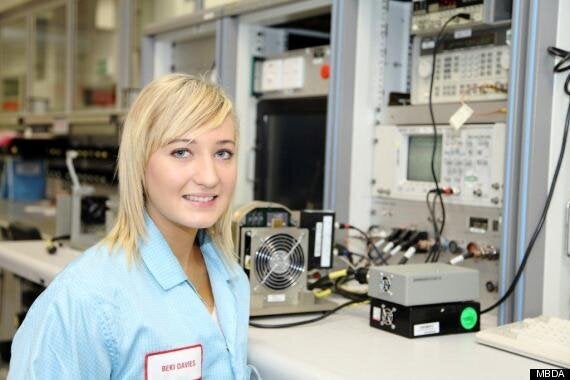 What has been the most memorable day of your apprenticeship so far?
I have completed three out of four years of my Apprenticeship so far and there have been so many memorable days. Meeting the Prime Minister David Cameron at number 10 was an important opportunity to show him what apprentices can do and how important engineering is. Another memorable time, was coming first out of 10 teams of universities and apprentices at a business/university challenge which tested our skills of negotiation, business acumen, communication, innovation and presentation skills.
What are the best things about being an apprentice?
The best things about being an apprentice are that; I get to go to college one day a week studying for my ONC through to HND in Electronic Engineering, I also gain NVQs level 2 to 4 in different Engineering fields, I get paid a good salary with annual pay rises and I gain the hands on experience needed to do a job competently. As well as these, I get experiences and opportunities I never would have had, had I have gone to university, such as meeting the Prime Minister at number 10 and representing MBDA at WorldSkills and other events.
What are the best things about working in the industry you work in?
The best thing about working in Engineering is that it is interesting and diverse. There is always a problem to be solved with new technology being brought in and different processes which we adapt to. Also, I get to try different engineering activities from design engineering, manufacturing engineering and test engineering.
What's the most surprising thing you've learnt during your apprenticeship?
It is the stereotypes that most people are under the influence of. I attend a lot of events to promote apprenticeships and MBDA and when talking to some people, the illusion they have about apprenticeships and engineering (in most cases) couldn't be further from the truth.
What would you say to someone thinking about applying for an apprenticeship?
Applying for an apprenticeship is one of the best things you can do after leaving school or finishing A-levels. After learning about them myself, I can't see a better way of gaining qualifications whilst gaining hands on experience and being paid at the same time – "earning and learning!".
What do you think are the biggest myths about apprenticeships?
That it is a route for somebody not very academic or enthusiastic. This is definitely not the case. It takes a lot of effort and dedication to finish a four year apprenticeship; we learn our qualifications part time and pack what seems like a week's worth of college learning into one day and then work the other 4 days a week. This can be hard work at times and requires a lot of enthusiasm and commitment to the job but is very rewarding at the end.
What do you expect to be doing in 10 years time?
In 10 years' time, I expect that I will be furthering my skills as a manufacturing engineer by leading a team on a project at MBDA. I will have gained all my academic qualifications, have 14 years' experience and will hopefully have completed a BEng/Chartered Engineering qualification.
Why an apprenticeship rather than university?
If I had gone to university, I would not have had the 3 years' experience I have now. I would not have the savings I have worked hard for to go towards a house deposit and I wouldn't have joined a working community to which I feel like I contribute and integrate but most importantly, I don't have £25,000+ debt to my name.
What advice would you give someone leaving school or college now?
Look carefully into all the options available to them. It is important to look into different pathways and career options before deciding for definite.
Work experience is also very beneficial, it really helped myself and a lot of apprentices at MBDA decide what was the best industry and pathway for them to follow. Lastly, it is important for anybody that they do it themselves. This means phoning up for interviews, filling in application forms and creating portfolios so employers/colleges etc, can immediately see your interest.
Related