The body count from the havoc wrought by typhoon Haiyan could be ten times as many as first feared, with up to 1,200 people lost in the storm.
The Red Cross said it feared 1,000 had been killed in the central city of Tacloban and 200 in Samar province.
Gwendolyn Pang, secretary general of the Philippine Red Cross, told Reuters: "An estimated more than 1,000 bodies were seen floating in Tacloban as reported by our Red Cross teams.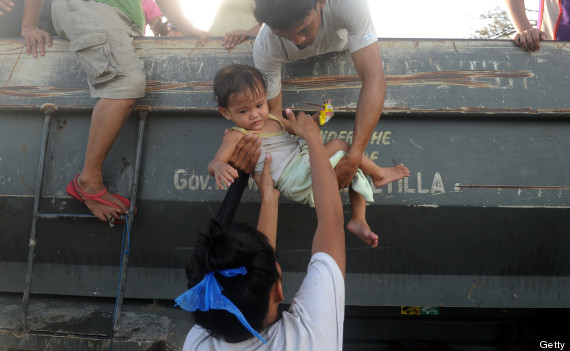 Residents return to their houses after leaving an evacuation site in the aftermath of Super Typhoon Haiyan in Tacloban
"In Samar, about 200 deaths. Validation is ongoing."
TODAY'S TOP STORIES
Sebastian Rhodes Stampa, head of the UN disaster ssessment co-ordination team sent to assess the devastation compared scenes of death and destruction to the Indian Ocean tsunami.
"This is destruction on a massive scale. There are cars thrown like tumbleweed and the streets are strewn with debris," he told reporters.
Pictures from the affected area show survivors picking through the wreckages of their homes. The Red Cross said there are still many bodies floating in the water.
Regional military commander Lt. Gen. Roy Deveraturda said that the casualty figure "probably will increase," after viewing aerial photographs of the widespread devastation caused by the typhoon, which was heading toward Vietnam after moving away from the Philippines.
Oxfam has dispatched a team of experts on the ground to assess the water, public health and sanitation conditions in Bohol today and another batch of teams will go to Northern Cebu, Northern and Eastern Samar and Leyte, in the Eastern Visayas region in the Philippines.
Marie Madamba-Nunez of Oxfam said: "Making sure people have clean water, safe sanitation and a roof over peoples heads will be an immediate priority.
"These disasters compound the burden of Philippines' poorest people. Small scale farmers and those relying on fishing to make a living will be hardest hit. Their fields and their boats and tackle will be badly damaged and they will need help not only today but in months to come.
"Economic solutions to root out poverty and inequality must be paired with minimising the risk of poor communities to the vagaries of weather and climate change."