Hundreds of bodies are still lying in the streets in the central city of the Philippines, after one of the most powerful storms on record tore through the country.
About four million people are believed to have been affected by Super Typhoon Haiyan, the country's national disaster agency said.
At least 100 people have been killed by Haiyan, agencies in the capital Manilla reported, with bodies, still uncounted, lying in the streets of the city of Tacloban.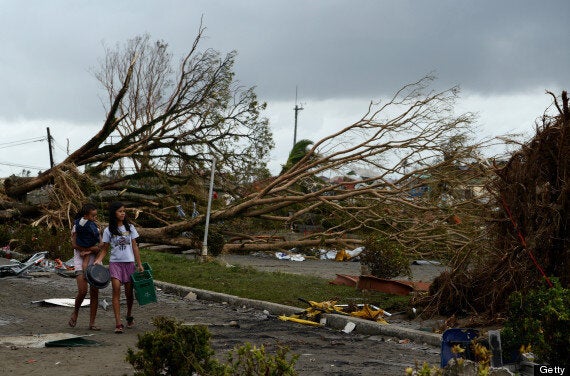 Women walk past fallen trees and destroyed houses in the aftermath of Super Typhoon Haiyan in Tacloban, eastern island of Leyte
In that city, home to 220,000 people, most of the houses have been decimated by floods and violent winds.
Super typhoon Haiyan is the country's strongest typhoon for the year, and the third in its history. Severe damages to properties and infrastructure have been reported. Electric posts and trees have blocked roads, buildings have been wrecked, and houses, especially those of light materials, have been partially damaged or destroyed. The province of Samar remains inaccessible.
Haiyan comes on the heels of a devastating earthquake and a storm that wiped out rice harvests worth millions of pesos last October this year, and a deadly standoff between the military and rebel forces that left hundreds dead and thousands homeless in September.
"When you're faced with such a scenario, you can only pray and pray and pray.
"I hope that means they were spared and not the other way around," he said. "My worst fear is there will be massive loss of lives and property."
The UK has sent a team of three experts to the country to assess the extent of the damage, after which the Government will decide upon its response, a spokeswoman for the Department for International Development said. The team is expected to land in the Philippines later today.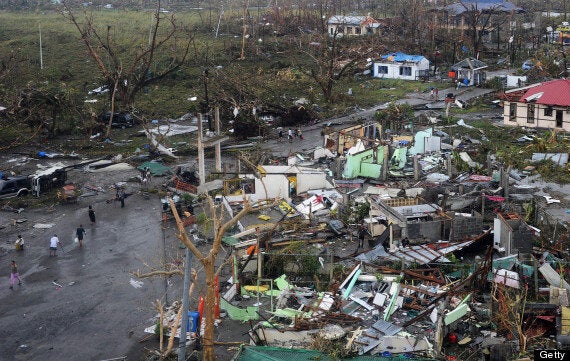 Houses destroyed by the strong winds caused by typhoon Haiyan at Tacloban, eastern island of Leyte
But while relief workers said they are having difficulties delivering food and other supplies, with roads blocked by landslides and fallen trees, widespread evacuations mean the initial death toll is not as great as might have been feared.
Ben Webster, disaster response manager for the Red Cross, said: "Preparedness is strengthening over the years as agencies become more proficient at preparing for disasters, technology is improving so we can forecast a bit more reliably, so it is getting better in terms of preparation.
"But there are still hundreds of thousands of families likely to have been impacted, and even if the loss of life isn't as high as it usually is, these are still people who need homes and livelihoods which will have been impacted by this huge storm.
"The British Red Cross launched an appeal yesterday which the public can support. We have already released £100,000 yesterday which will support relief items, 10,000 tarpaulins were sent from Kuala Lumpur, and 2,000 hygiene parcels as well.
"The whole international Red Cross movement will be mobilising to support the Philippines Red Cross and the International Federation in country to be able to respond to the situation."
Oxfam's acting country director in the Phillippines Felipe Ramiro, said agencies were having difficulty reaching those in need yesterday.
"Initial reports from the ground indicate that the provinces of Samar and Leyte in the Visayas region are the hardest hit. Electricity in these areas has been cut off and communication has been difficult. Flights to these provinces and other areas have also been cancelled."
"We hope to know more in the coming hours. The Oxfam teams will be dispatched starting tomorrow, especially to areas which are at risk from hazards like flooding and storm surges and may not be able to bounce back from disaster quickly because of poverty."
Ranked the "world's third highest disaster risk country" according to the United Nations Office of the Coordination of Humanitarian Affairs, the Philippines will continue to face multiple and possibly simultaneously occurring emergencies because of its high incidence of poverty and exposure to natural hazards, Oxfam warned.