Britain has committed almost £6 million of emergency help and sent additional experts to the Philippines to help with the aftermath of one of the most powerful storms on record.
The body count from the havoc wrought by typhoon Haiyan could be ten times as many as first feared, with the charity revealing it feared 1,000 had been killed in the central city of Tacloban and 200 in Samar province alone. A team of four UK humanitarian experts arrived in the disaster zone today to join three already there helping to co-ordinate the international response.
International Development Secretary Justine Greening has activated the UK's Rapid Response Facility (RRF) which will provide £5 million to organisations to help up to half a million victims.
Millions have been made homeless by the typhoon and plastic sheeting to build shelters is among a £600,000 British shipment of emergency equipment.
With Haiyan forecast to hit central Vietnam's coast tomorrow afternoon, another team of UK experts has also been put on stand-by to travel there. Ms Greening said: "My thoughts are with the people of the Philippines, in particular those who have lost loved ones. UK support is now under way.
"Many thousands of people in remote, hard-to-reach communities have lost their homes and everything they own. They are living in the open and completely exposed to the elements.
"The absolute priority must be to reach them with shelter and protection as soon as possible.
"UK support will provide urgently needed access to clean water, shelter, household items and blankets.
"We are also sending additional humanitarian experts from the UK to work with the DfID team and international agencies, including ensuring partners are prioritising the protection of vulnerable girls and women."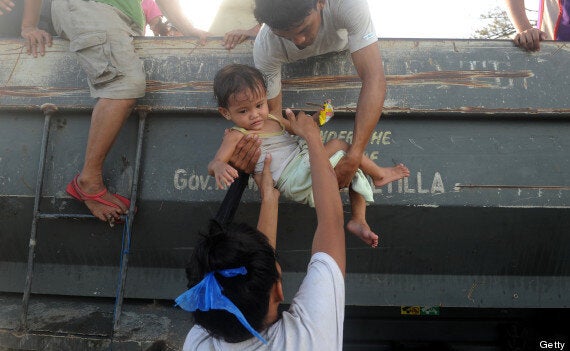 Residents return to their houses after leaving an evacuation site in the aftermath of Super Typhoon Haiyan in Tacloban
The UK already funds emergency preparations in the Philippines, with almost a third of a recent £4.1 million tranche of aid being devoted to the issue, DfID said.
About four million people are believed to have been affected by Typhoon Haiyan, the country's national disaster agency said.
Winds of 147mph (237kph) and gusts of 170mph (274kph) left a trail of destruction in their wake, triggering major landslides, knocking out power and communications and causing widespread damage.
Aid agencies in the country say they are struggling to reach the worst-affected areas.
But while relief workers said they are having difficulties delivering food and other supplies.
Sebastian Rhodes Stampa, head of the UN disaster assessment co-ordination team sent to assess the devastation compared scenes of death and destruction to the Indian Ocean tsunami.
"This is destruction on a massive scale. There are cars thrown like tumbleweed and the streets are strewn with debris," he told reporters.
Pictures from the affected area show survivors picking through the wreckages of their homes. The Red Cross said there are still many bodies floating in the water.
Philippine Red Cross secretary-general Gwen Pang said the confirmed death toll of 138 could rise to more than 1,000 but stressed that was "just an estimate".