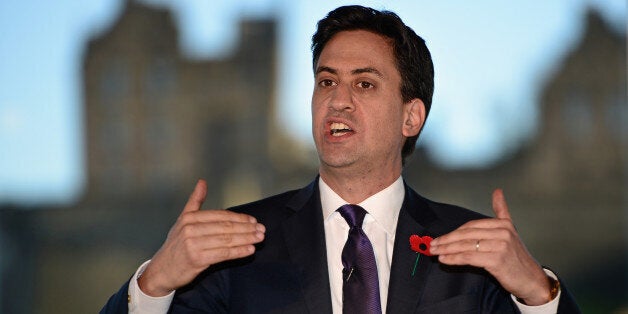 Adverts for payday loans must not be allowed to air during children's programmes, Ed Miliband has said, warning that Labour would change the law to ban them if necessary.
The Labour leader accused lenders of "putting pressure on our kids" with child-friendly, animated commercials to take advantage of families feeling the squeeze.
Calling for them to be treated the same as gambling and junk food promotions, he said that, if the Advertising Standards Authority (ASA) failed to act, a Labour government would legislate.
The Opposition leader has targeted what he dubs the "Wonga economy" as a symbol of his campaign to highlight the rising cost of living.
He accuses the firms of preying on the vulnerable, creating a "quiet crisis" for thousands of households left with debts they are unable to pay off.
More than one in three people with youngsters under 10 said their children had repeated payday loan ad slogans to them, a recent survey showed.
And 14% said that when they had refused their under-10 something, they had been "nagged" to get a payday loan to pay for it, the research suggested.
Martin Lewis, the founder of MoneySavingExpert.com, which produced the figures, told a Commons committee it amounted to "grooming".
Bosses from the industry - which is under investigation by the Competition Commission - defended their practices when they appeared before MPs.
Labour said it would be "straightforward" for the ASA to draw up codes regulating adverts in the same way as gambling and to match restrictions on alcohol advertising aimed at children.
Powers already exist for the Government to enforce the gambling regulations although they have so far not been used as self regulation is considered to be working.
Setting out his proposed crackdown, Mr Miliband said: "As a father of two young boys, I know how influenced they can be by what they see.
"And I don't want payday lenders taking advantage of the cost of living crisis and targeting children in this country.
"It is wrong, it is not what should be happening and that is why a Labour government would stop them advertising during children's TV.
"It's bad for young people, it's bad for families and it's bad for communities."
Lenders were "spending hundreds of thousands of pounds to target young children... with cartoon characters, with animated characters, with puppets", he said.
"We don't allow gambling firms to advertise during children's TV, we don't allow junk food to be advertised during children's TV, we shouldn't allow it for payday lenders either.
"That's why we will be asking the Advertising Standards Authority to act on irresponsible advertising that's targeting young children by payday lenders.
"And if they don't sort it out, we will through legislation."
Mr Lewis welcomed the move.
"We've been calling for a ban on payday loans on children's TV. The risk is they effectively groom a new generation of children, normalising, legitimising and mainstreaming this dangerous type of niche borrowing," he told the Sun on Sunday.
"Marketing is at the core of these loans, which cause many people pain and misery.
"They're slick, fast, efficient technological plays, the crack cocaine of lending that have created a market that didn't really exist five years ago - and sadly our lack of regulation means they thrive here while other countries have far more effective controls.
"To hear the Leader of the Opposition pick up the cudgel is a joy."
A spokeswoman for the Department for Business, Innovation and Skills said the government was already cracking down on irresponsible payday lenders to protect consumers.
She said: "Two misleading payday loan adverts have been banned over the past six months as part of our work with the Advertising Standards Authority.
"New rules will also force payday loan adverts to include risk warnings and information about where the public can access free and confidential debt advice.
"New powers have been introduced to ban products, impose unlimited fines and order firms to refund consumers.
"These new restrictions build on the action taken by the Office of Fair Trading which has seen 25 payday lenders leave the market since March."