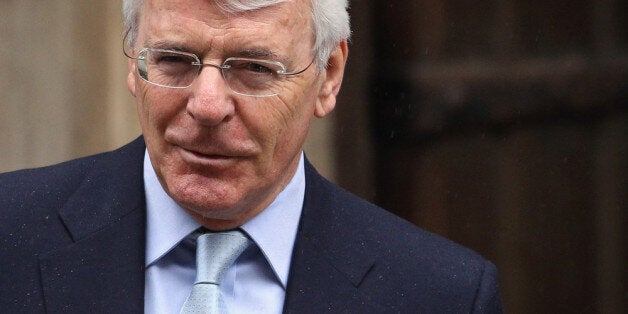 Sir John Major has criticised the "truly shocking" dominance of the upper echelons of power in Britain by the privately educated and affluent middle class, it was reported.
In remarks that will sting Eton-educated David Cameron, his Conservative predecessor in 10 Downing Street is said to have called for more to be done to boost social mobility.
The Daily Telegraph said the state-educated former prime minister, who left school at 16, spoke out in a speech to party members at the South Norfolk constituency party.
"In every single sphere of British influence, the upper echelons of power in 2013 are held overwhelmingly by the privately educated or the affluent middle class," he is reported to have said. "To me, from my background, I find that truly shocking."
Cameron has faced claims he has surrounded himself with people from a similarly privileged family and educational background.
Sir John pinned the blame for a collapse in social mobility on Labour, which he said left a "Victorian divide between stagnation and aspiration".
"I remember enough of my past to be outraged on behalf of the people abandoned when social mobility is lost.
"Our education system should help children out of the circumstances in which they were born, not lock them into the circumstances in which they were born.
"We need them to fly as high as their luck, their ability and their sheer hard graft can actually take them. And it isn't going to happen magically."
Labour leader Ed Miliband's adoption of the one nation party mantra was "absurd", he suggested.
In an appeal for unity, Sir John said the party could win the 2015 general election "but only if we pull together" - saying internal criticism could be productive but should be kept private.
"Public criticism is destructive. Take it from me. Political parties who are divided and torn simply do not win general elections," he said in a nod to the divisions which wracked his own premiership.
On one issue that has caused grass-roots dissent, gay marriage, he urged people to accept times had changed, warning it was "toxic".
"We may be unsettled by them, but David Cameron and his colleagues have no choice but to deal with this new world. They cannot, Canute-like, order it to go away because it won't," he said.
And on another major area of concern, he recommended a less-confrontational approach to the threat of the UK Independence Party.
"We don't need to make personal attacks on Ukip," he said. "Many of the Ukip supporters are patriotic Britons who fear their country is changing. It is far more productive to expose the follies in their policies."
Norfolk South MP Richard Bacon, who hosted the dinner, said: "It was a superb speech which drew attention to the huge damage done to social mobility especially by the last Labour government.
"I think the coalition is acutely aware of this problem and is taking steps to address it such as cutting tax for the low paid and the pupil premium, but it is an enormous task."
it is the second intervention by Sir John in the past month. The former prime minister caused a stir recently when he called for George Osborne to impose a windfall tax on energy companies.