Kellogg's UK has been forced to apologise for the "wrong use of words" after posting a message on Twitter offering to give a vulnerable child breakfast each time the message was retweeted by a user.
In a message posted on Friday afternoon that sparked outrage from Twitter users, the cereal giant wrote: "1 RT = 1 breakfast for a vulnerable child".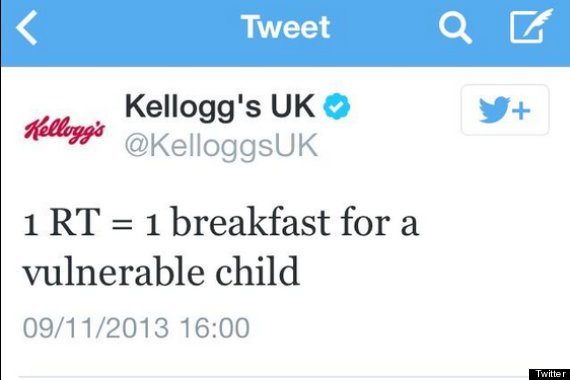 In response, Twitter users flocked to attack the "stupid" message.
Others posted parodies of Kellogg's message, which aimed to promote its "Give A Child A Breakfast" campaign.
Check out @KelloggsUK new social media campaign:

1 RT = 1 breakfast for a vulnerable child

#DamageLimitation pic.twitter.com/Qw5sTOIvPf

— HM (@Shugism) November 10, 2013
RT this or we kill the kitten: this will work better. Brits care more about small animals than children. @KelloggsUK pic.twitter.com/wBN7C6Vwvw

— Remittance Girl (@remittancegirl) November 10, 2013
Kellogg's later deleted its message and posted an apology reading: "We want to apologise for the recent tweet, wrong use of words. It's deleted. We give funding to school breakfast clubs in vulnerable areas."
However, many user still were not appeased, as they insisted it was "lousy marketing".
.@KelloggsUK Not "wrong use of words", you said exactly what you meant to say. It was just a lousy social marketing plan.

— The_No_Show (@The_No_Show) November 10, 2013