EDF has unveiled a 3.9% price increase, which will see bills soar by £49 to £1,300-a-year, and warned that they could rise further if the government fails to make big enough reductions to green taxes.
The energy giant said its price increase, which would come into effect from January 3, would save its 8 million customers up to £80 more than if they had signed up to any of the four energy suppliers who have already unveiled price rises, British Gas, nPower, Scottish Power and SSE.
EDF said: "The company recognises that a price rise is especially unwelcome in the current economic climate, but believes that today's action to limit the growth of bills is an important step," EDF said.
"If the Government makes bigger changes to the costs of its social and environmental schemes than EDF Energy has anticipated, the company pledges to pass these savings onto customers. However, if changes to social and environmental programmes are less than anticipated, the company may have to review its standard variable prices again."
Energy secretary Ed Davey said: "Any price rise is disappointing but I'm encouraged b that EDF have kept their price rise much closer to inflation than some of their competitors.
"The competition we've introduced to the energy market means people have a choice. They can look for the best deal available; including from smaller suppliers, with the confidence that switching will make an immediate difference to their bills and force the Big 6 to compete on price."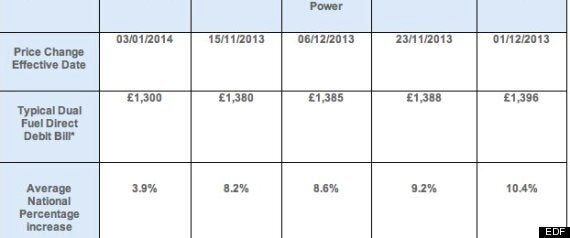 EDF's rise compared to the energy giants who've already announced theirs