Want a free journey on the Tube in Moscow? Drop down and give 30 squats.
In an effort to promote the upcoming Winter Olympic Games in Sochi, Moscow city officials and the Russian Olympic Committee are allowing subway riders to sweat it out to get to work.
Instead of paying the regular 30 rubles (57p), commuters can now perform 30 squats at Vystavochnaya station.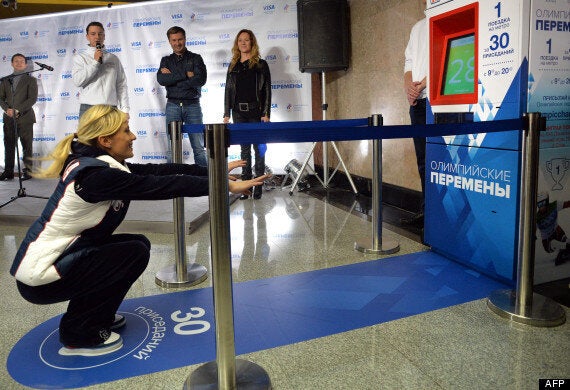 A young woman squats in front of a vending machine that sells the subway tickets for squats instead of money
Riders perform the squats in front of a special machine which can tell if the person is in the correct position. The machine is located right next to the electronic vending machines at Vystavochnaya station in western Moscow.
"We wanted to show that the Olympic Games is not just an international competition that people watch on TV, but that it is also about getting everyone involved in a sporting lifestyle," Alexander Zhukov, president of the Russian Olympic Committee, said to Russian state news wire RIA-Novosti, according to the Wall Street Journal.
"It was hard at first but I managed it," Lyudmila, a young woman who tried out the machine, told AFP. "Two minutes is enough time."