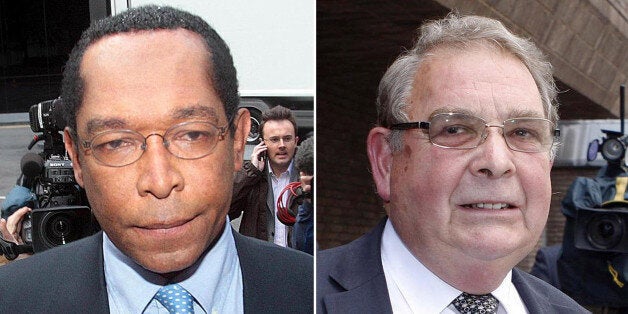 Two peers who spent time behind bars for fiddling their expenses continue to claim the maximum parliamentary allowances permitted, the figures for June 2013 show.
Expenses costs published on Wednesday showed Lord Taylor of Warwick claimed £3,900 for attending the Lords for 13 days and Lord Hanningfield claimed £4,800 for 16 days.
Former Tory peer Lord Taylor was given a 12 month sentence in 2011 for claiming £11,000 in false travel and overnight subsistence allowances.
Lord Hanningfield, also an ex-Conservative peer, was given a nine month sentence in the same year for illegally claiming £13,000 in parliamentary expenses.
Under the rules, peers are allowed to claim a daily allowance of £300. But peers can also choose to claim a reduced rate of £150, or nothing at all, if they choose.
In June the House of Lords sat for 16 days. Lord Hanningfield claimed for each of these days. And both he and Lord Taylor claimed the maximum £300 for the days attended.
In order to qualify for a claim peers can in theory do as little as sit in the chamber while formal Lords business takes place.
Lord Hanningfield has not spoken in a parliamentary debate since 2009. Lord Taylor spoke once in June - during a debate on small and medium-sized enterprises.
Under the current rules peers are able to retain their seat even if they are convicted of a crime or never actually bother to turn up.
Labour MP John Mann expressed outrage at the claims. He said: "Peers who have been convicted of expenses fraud should be thrown out of parliament. Whilst the law is being changed to do this they should be banned from claiming anything."
In June Nick Clegg said the government would move to kick "crooks" out of the House of Lords following a lobbying scandal.
"There are specific housekeeping measures in the House of Lords - people who've committed crimes who shouldn't be there, people who've never attended who shouldn't be there, voluntary retirement – if we can sweep that up," he said.
A provision to exclude peers from the House of Lords should they be convicted of a serious crime that leads to a prison sentence of over a year has been included in private members bill tabled by Tory MP Dan Byles.