A young Mexican woman has reportedly committed suicide after posting a series of disturbing images and farewell messages on Facebook.
Gabriela Hernández Guerra began uploading pictures of her tear-streaked face after breaking up with a boyfriend she met online, Excelsior.com reports.
In one disturbing image she posed with a noose fashioned out of a sheet around her neck, alongside the message: "Goodbye to all, I don't have anything now, I don't have anything. Julio I love you, never forget it. I'm leaving with a smile because you made me very happy while this lasted. To my family, I ask for your forgiveness. Love, Gabi."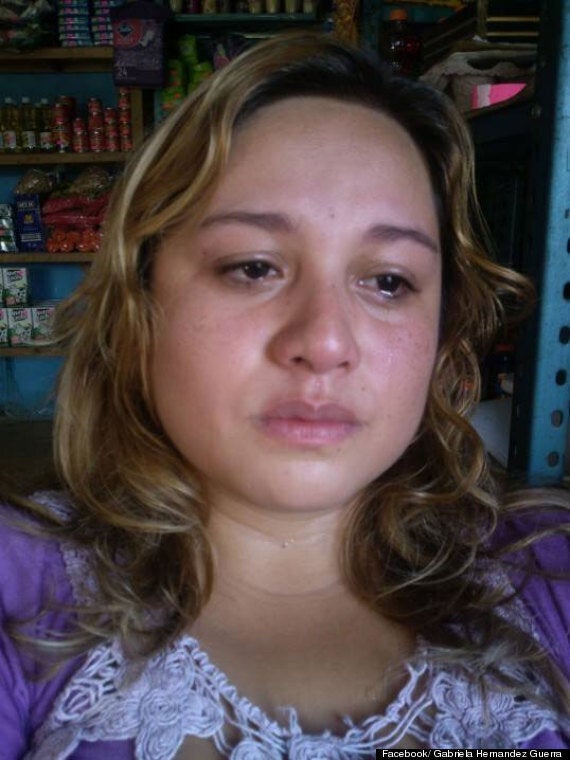 Gabriela Hernández Guerra announced her plans to commit suicide on Facebook
She followed it with a picture of herself weeping and the words: "Because I met you now you leave me with a huge emptiness I never thought I'd love at a distance never regret it because when that happens I wont be here for you, your attitude hurts me, you were only looking for an excuse to leave me."
(I will kill myself like Gabriela did) in Mexico "with many people mocking the fact she was in a virtual relationship with a guy she didn't really know."
Guerra's brother found his sister's body in the family home in Misantla, Veracruz, El Universal reports. Her Facebook account has since been closed.
Seattle singer Freddy E began tweeting about "heartbreak" and claiming "God was calling him home" on January 5.
He bid farewell to his mother and father and claimed he had his finger on the trigger of a gun.
He was later found dead from a self-inflicted gunshot wound.
If you've been affected by the issues in this article, please call the Samaritans on 08457 90 90 90.
Popular in the Community