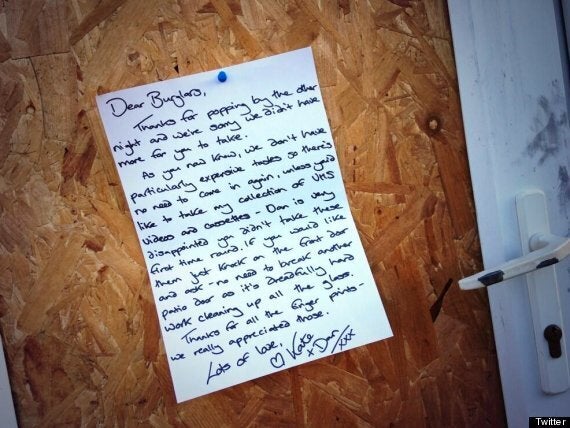 A woman has written a thank you note to burglars who ransacked her house – and apologised for not having nicer things for them to have stolen.
Kate Barrett, 36, said sorry for her family not having "particularly expensive tastes", and passed on her disappointment that their enviable collection of VHS video tapes, audio cassettes and 'retro' goods being left behind.
Miss Barrett stuck the letter to the back door of the Northampton home she shares with Mr Owens.
She said writing out the note to the "naughty imps" had cheered her up.
The burglars smashed through the door on Sunday evening.
The couple were both away at the weekend and Miss Barrett, who works as a communications officer, got home first to discover the "ransacked" house.
He added: "I think they were planning to go out through front door with the telly, but luckily the spare key doesn't work.
"She's a big hoarder and has all these old tapes and videos from way back when and they are welcome to those."