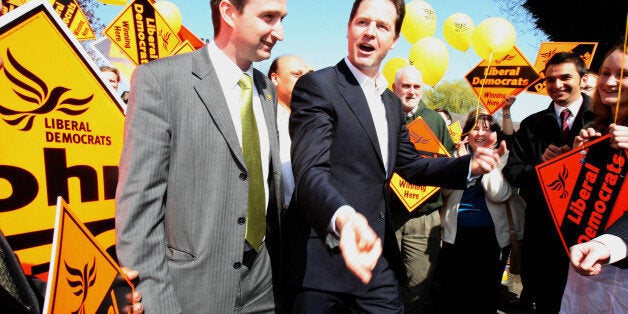 A Liberal Democrat MP is advertising an unpaid internship for up to 12 months despite the party's campaign to pay interns the national minimum wage.
John Leech is currently looking for a "volunteer" to be based in Manchester to carry out duties which will help the successful candidate "develop their employability skills". Despite the MP holding interviews in London, the intern will not be reimbursed travel expenses.
Leech was recently awarded Lib Dem MP of the Year for his work "with minority communities and promoting equality". Charles Glove, office manager for the MP, told The Huffington Post UK they could not afford to pay their interns a minimum wage.
"This is why we offer the option of spreading the internship over 12 months, so people can work. Candidates may be paid expenses in exceptional circumstances.
"Most of the people we are trying to help do not go to Oxbridge; they cannot get mummy and daddy to pay for them [to do an internship] for six months.
"The intern is likely to be from Manchester. People in London tend to be the stereotypes who apply for internships. A lot of MPs offer unpaid internships on the quiet. We are one of the few MPs who advertise for interns. We recruit on merit; it's not about who your parents know."
"To do this, we have to give young people the information and support they need so they are less likely to be exploited.
"Not paying the national minimum wage is illegal and if an employer breaks the law, government will take tough action."
A Department of Business (BIS) spokesman refused to comment on Leech's advertised internship. However on Monday, BIS released a statement which read: "The law on the national minimum wage is clear. If somebody on a work experience placement or internship is a worker under NMW legislation, then they are entitled to the minimum wage.
"Internships can be a valuable way of helping young people get into work and realise their ambitions. Anyone who feels they are being exploited should contact the Pay and Work Rights Helpline."
Tanya De Grunwald, founder of Graduate Fog, which campaigns for fair pay for interns, said: "That supposedly smart people like John Leech are still getting it so embarrassingly wrong on unpaid internships shows exactly why these new guidelines are so important.
"Whether employers who don't pay their interns are ignorant or evil is unclear, but we do know that too many are still taking advantage of their young staff - and getting away with it."
The Lib Dems have been contacted for comment but had not responded at time of publication. HMRC said it "cannot draw conclusions based on an advert".