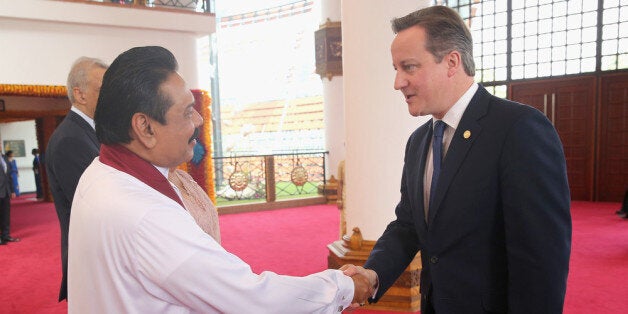 The five things you need to know on Friday 15 November 2013...
1) WILL DAVE GET BLOOD ON HIS HANDS?
"David Cameron is scheduled to shake hands with the President of Sri Lanka today as the Commonwealth summit begins amid an international outcry over allegations of war crimes. The Prime Minister landed in Colombo last night for the biennial event after promising to draw attention to 'appalling' and 'chilling' atrocities committed during the civil war that ended in 2009."
Despite Mr Cameron's strong words, Downing Street sources said that he planned formally to greet President RaJapaksa in a moment that is likely to prove deeply uncomfortable. He is also expected to pose for a "family photo" that will have the Sri Lankan leader at its centre. 'We are here to highlight abuses,' a source said. 'We are not here to humiliate him.'"
The i newspaper splashes with: 'Don't mention the war crimes".
Meanwhile, the Guardian reports that Dave has taken time out to attack "Labour's 'rank hypocrisy' in calling for him to boycott the Commonwealth summit in Sri Lanka as he claimed his visit to the country's war-torn north will help give a voice to the dispossessed".
The paper quotes the PM as saying:
"I think there is rank hypocrisy really from Labour to call for non-attendance at a Commonwealth heads of government meeting that they helped fix when they were in government.
"So I think it is absolutely extraordinary behaviour – in 2009 they effectively agreed the meeting should be held in Sri Lanka and they're just playing politics and it's completely cynical."
In an interview with the BBC, Cameron added: "The choice I have is a binary one: to go to that conference or to leave that conference and to leave an empty chair... If your argument is that the Commonwealth is imperfect, then yes, of course it is."
2) THE GREAT PURGE, ROUND 2
First they came for the speeches...
"The full extent of the purging of the Conservative party website was revealed on Thursday when it was confirmed that the party has removed videos from YouTube, including the "behind-the-scenes access" Webcameron series.
"As David Cameron's former general election speechwriter condemned the deletion of a decade of speeches from the party's website, it has emerged that every video on the Conservatives' YouTube page that dates from before 2010 has been removed or marked as private.
"Videos such as Ask David Cameron: Shared ownership, EU referendum, PMQs are now marked as unavailable on YouTube. Others, such as Boris Johnson at the pre-election rally in Swindon, and David Cameron down on the farm, are now unlisted, ensuring that only users with a direct link can see them."
"Ian Birrell, a close Hilton ally who served as Cameron's speech writer during the general election, on Friday laments the deletion of the speeches and the videos as a sign of the move away from the modernisation project."
Meanwhile, the BBC reports:
"Some speeches and press releases published on the Labour Party website before 2010 have been deleted.
"On Wednesday, the party seized on revelations that the Conservatives had purged their online archive and blocked search engines from indexing old content, calling it a 'cynical stunt'.
"Labour has now admitted its own website is also 'regularly updated'.
"But the party says it has not tried to block search engines from keeping a record of its archived pages."
Unlike the Tories, they mean. Still, awk-ward...
Who says President Hassan Rouhani of Iran (a) isn't a dove on nuclear issues, (b) doesn't have any power inside of Iran? The Independent reports:
"Iran has paused its expansion of its sensitive nuclear activities in the three months since pro-reform President Hassan Rouhani came to power, the UN nuclear watchdog has reported.
The move could be a significant confidence-building gesture towards the West, or at least a welcome sign that the Iranian authorities are looking for a deal in talks which resume in Geneva next week. However, in its quarterly report on Iran's nuclear programme seen by The Independent, the International Atomic Energy Agency (IAEA) said Iran still has questions to answer on its past activities which may have been dedicated to weapons development.
"Iran has always insisted its nuclear programme is exclusively for energy production."
BECAUSE YOU'VE READ THIS FAR...
Watch this video of puppies fighting with doorstoppers. You know you want to.
"Boris Johnson has been accused of 'gross insensitivity' and 'dodging responsibility' after he suggested that the deaths of five cyclists on the streets of London over the past nine days underlined the need for cyclists to obey the laws of the road.
"The mayor of London also appeared to shrug off calls for an urgent, independent review of cycling safety in the capital, arguing that, if cyclists did not follow the rules, 'there's no amount of traffic engineering that we invest in that is going to save people's lives'.
"Johnson's remarks came hours after a man in his 30s became the 13th cyclist to die on London's streets this year after he was hit by a bus in east London."
Just in case you had any doubt about the barbarity of some of the Islamist rebels who are fighting the (barbaric) Assad regime in Syria, the Sun reports:
"Sick Islamist rebels who cut off and displayed the wrong man's head have asked for 'understanding and forgiveness'.
"They thought they had decapitated an Iraqi Shia militia. man fighting for their enemy President Assad in Syria.
"The al-Qaeda-linked group then triumphantly held the head up in front of a crowd in Aleppo.
"But it was later recognised as fellow rebel Mohammed Fares, who fought alongside them."
Meanwhile, on a not-unrelated note, the Telegraph reports:
"Christianity is in danger of becoming extinct in its ancient homelands because of a rising tide of sectarian attacks, a Cabinet minister warns today.
"Violence against Christian worshippers by religious fanatics has become a 'global crisis' and is the most grave challenge facing the world this century, according to Baroness Warsi.
"In a speech today at Georgetown University, Washington DC, Lady Warsi, the Minister for Faith, will say: 'A mass exodus is taking place, on a Biblical scale. In some places, there is a real danger that Christianity will become extinct.'
"... Writing for telegraph.co.uk today, Lady Warsi highlights...'Christian populations are plummeting and the religion is being driven out of some of its historic heartlands. In Iraq, the Christian community has fallen from 1.2million in 1990 to 200,000 today. In Syria, the horrific bloodshed has masked the haemorrhaging of its Christian population.'"
From the Sun/YouGov poll:
That would give Labour a majority of 92.
@WilliamJHague Meeting members of the Tamil National Alliance to discuss and support #humanrights and reconciliation in Sri Lanka
@Mike_Fabricant Very difficult to make physically separated cycle lanes in London's busy streets. Watching cyclists weave around Parliament Square #scary
@Ed_Miliband Congratulations to Sachin Tendulkar on 24 fantastic years. One of the greatest batsmen we'll ever see.
Ian Birrell, writing in the Guardian, says: "Tory strategist Lynton Crosby would do well to read those deleted speeches."
Jeremy Warner, writing in the Telegraph, says: "Across the world, weak politicians have handed responsibility to unelected technocrats."
Philip Collins, writing in the Times, says: "We will never talk Sri Lanka into decency."
Got something you want to share? Please send any stories/tips/quotes/pix/plugs/gossip to Mehdi Hasan (mehdi.hasan@huffingtonpost.com) or Ned Simons (ned.simons@huffingtonpost.com). You can also follow us on Twitter: @mehdirhasan, @nedsimons and @huffpostukpol