A body found in a well has been removed, police said today.
The procedure to retrieve it was concluded this afternoon, Scotland Yard said.
The grim discovery was made by workmen at a private house in Warlingham, Surrey, yesterday afternoon. Seven men have been arrested on suspicion of murder.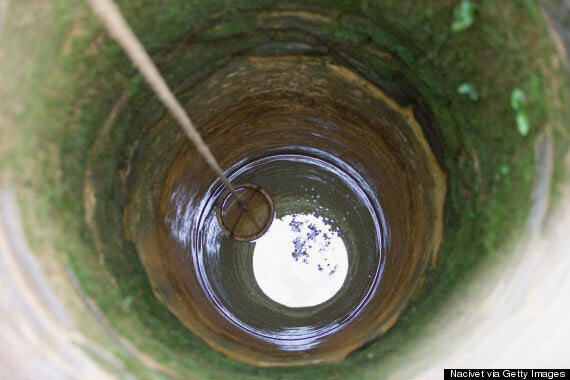 Police are investigating the discovery of body in a south London well
Two men found the body as they were doing clearing work in the front garden of the large property in Audley Drive, which stands in an acre of grounds in an affluent area.
A Scotland Yard spokesman said: "Specialist officers, including Metropolitan Police divers, attended the scene and the process of recovering the body from the well has been completed."
A post-mortem examination will take place at East Surrey Hospital mortuary tomorrow afternoon.
Detective Chief Inspector Cliff Lyons said earlier: "It is a murder investigation. As far as I am concerned, when a body is found in a well it either fell in there or was placed in there, and the evidence is apparent that the body was placed in there."
He said the body presented a number of logistical challenges. "The well is two feet in diameter, it is seven feet deep to the water line, and the water is approximately four feet deep.
"We need a police marine diving team, with breathing apparatus, and we need to recover the body intact to preserve forensic evidence. The process of recovery is likely to take some time."
He said it was not possible to be sure of the body's gender, but, judging by the size, it was most likely to be an adult, not a child. The person was white.
He told reporters at the scene: "It's not been there for an extended period of time; it will be a matter of weeks at the most."
He was not prepared to discuss who lived in the house, or a suggestion that the body was wrapped in carpet. He could not confirm or deny whether the body was intact.
Asked about claims by local residents that there had been quite a bit of trouble in the past couple of years with the people who lived in the house, and that police had been called many times, he said: "The residents have expressed concern, there is intelligence to support that notion, yes."
He appealed for anyone who had concerns about a person who has gone missing, especially if they had connections to that area, to come forward.
Anyone with information is urged to call police on 020 8721 4961 or Crimestoppers anonymously on 0800 555111.
Those arrested were held last night, and are aged between 21 and 27.
Anyone with information can call police on 020 8721 4961 or Crimestoppers anonymously on 0800 555111.