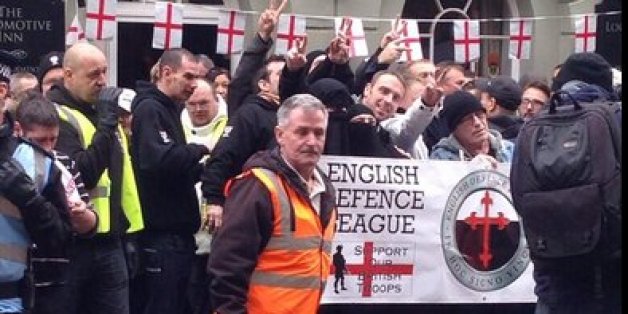 Twitter/ Expose
Reports and photographs from an EDL demonstration in Exeter today appear to show members of the group laughing as they don burkhas and "pray in the streets."
EDL protestors wearing burkas while gathering pre-march. #edlmarch pic.twitter.com/ZqMcFymG4f

-- Exeposé (@Exepose) November 16, 2013
EDL have two people dressed in Burkhas praying on New North Road - march about to start #edlmarch

-- XpressionFM News (@XpressionFMNews) November 16, 2013
EDL in Exeter reportedly chanted 'Mohammed is a pedo.' Two of them are dressed in Burkhas, mock praying on the street pic.twitter.com/UZ2pZ81nag

-- Harrison Jones (@HarrisonJones7) November 16, 2013
READ MORE:
The group's new chairman Tim Ablitt had previously bizarrely claimed to IBTimes UK that today's event in Exeter would feature a Muslim woman marching with the EDL.
The EDL wants more Muslims and fewer neo-Nazis in its ranks, the group's new chairman said.
"We were contacted by a Muslim woman - she sent a message saying she wants to attend [the Exeter march]. We have to provide some protection and we are hoping to facilitate her attending," Ablitt told IBTimes UK.