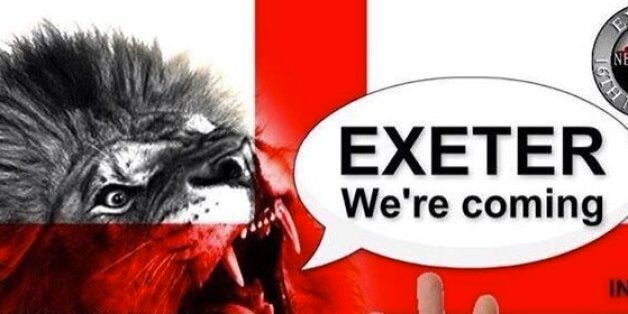 Life after Tommy Robinson plods on for the English Defence League, with a march in Exeter kicking off today.
Up to 250 police officers will join mounted police on patrol in the streets to quell outbreaks of violence, while hundreds have already arrived for a counter demonstration.
New chairman Tim Ablitt has bizarrely claimed to IBTimes UK that today's event in Exeter shall feature a Muslim woman marching with the EDL.
"We were contacted by a Muslim woman - she sent a message saying she wants to attend [the Exeter march]. We have to provide some protection and we are hoping to facilitate her attending," Ablitt told IBTimes UK.
Reports from the demonstration today have emerged of EDL members donning burkhas and "praying in the streets."
The EDL is set to be challenged by a group called Exeter Together who have insisted they will take a strong stand against bigotry.
Spokeswoman Hannah Packam told the Express and Echo: "We want to unite together in a celebration of diversity and the multi-cultural community we are all so proud of in Exeter.
"We need to stand together when this is threatened by people who just want to spread bigotry and hatred."
A Bristol woman joining the march told local media she travelled around 100 miles for the march "to show strength" and "to oppose racist ideas".
The English Disco Lovers (EDL) protest group also joined Exeter Together in their usual flamboyant fashion.
Others took to Twitter to voice their displeasure about the march:
Large parts of the city centre will be affected by the activity, although the marches are not expected to clash.
Some 250 officers from other parts of the country including Birmingham have been drafted in by Devon and Cornwall Police, in anticipation of a "large" EDL march.
The right-wing group has used Exeter University's Islamic studies and Muslim research centres as justification for the march in the city.
A police spokesman told local media: "We are prepared for a large march to happen. There will be a high police presence in the city, even though we have received no information to suggest there will be any violence or disorder.
"We respect the right to peaceful protest. But if people overstep the mark, we will deal with them accordingly and robustly."