Tommy Robinson has sensationally quit the English Defence League, saying he can no longer control the extremist elements within the organisation.
"I acknowledge the dangers of far-right extremism and the ongoing need to counter Islamist ideology not with violence but with better, democratic ideas."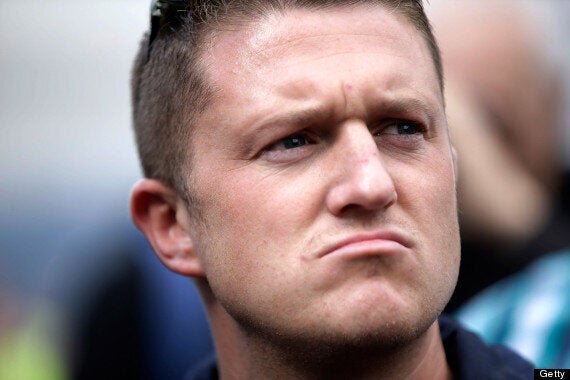 Stephen Lennon aka Tommy Robinson, leader of the English Defence League
Kevin Caroll, Robinson's deputy, has also quit the organisation.
Just one week ago, Robinson was accused of "stalkerish and bizarre" behaviour by an anti-English Defence League campaign group, for taking pictures outside what he believed was the group co-ordinator's place of work.
Robinson had been looking in the phone book for Moon's address and came across a Garry Moon – a man totally unconnected to the website.
On Wednesday this week he then sent the site a tweet, apparently of a photo outside the property of the wrong man.
The anti-extremism organisation Quilliam has claimed credit for the shock departure, saying they hope "to help Tommy invest his energy and commitment in countering extremism of all kinds, supporting the efforts to bring along his former followers and encouraging his critique of Islamism as well as his concern with far-right extremism."
"We call all of Tommy's former colleagues in the EDL to follow in his footsteps and also call on Islamist extremist leaders to follow this example and leave their respective groups. Tommy and Kevin believe the voice they have created can be channelled in a positive direction. Quilliam stands ready to facilitate such moves across the spectrum," the group said in a statement.
Quilliam Chairman and Co-Founder Maajid Nawaz said: "As well as being a very positive change for the United Kingdom, this is a very proud moment for Quilliam. This represents not a change but a continuation for us, as challenging extremism of all kinds forms the basis of our work.
"We have been able to show that Britain stands together against extremism regardless of political views and hope to continue supporting Tommy and Kevin in their journey to counter Islamism and neo-Nazi extremism."
Many have expressed scepticism that Robinson has renounced extreme views on Muslims.
Fiyaz Mughal, the director of the anti-Islamophobia monitoring group Tell MAMA, told HuffPost UK: "This is an extremely short-term measure for Robinson, who needs money, and who is desperate to get out.
"This will legitimise the man. His views, which are on the fringes of British society, are now being allowed to enter the mainstream. It is the most dangerous when views like this come from mainstream commentators."
HOPE not hate director, Nick Lowles said the organisation had cautious optimism about the demise of the EDL but said "only a complete renunciation of the violence and hatred the EDL leaders have promoted, and a turning away from the anti-Muslim rhetoric they have championed, will be enough for the many thousands who have suffered from the EDL's ugly actions over the past three years.
"EDL supporters have called for mosques to be burned, holy books to be destroyed, Muslims to be deported, they have cost us £10m in policing bills, brought disorder to our streets, and many, many more have been sentenced for acts of violence, gun possession, paedophilia and other crimes.
"What happens now to those wealthy individuals who have backed the EDL leaders to the hilt? We doubt they, or Lennon/Carroll, will disappear so quickly from the scene.
"Merely setting up a new party or anti-Muslim organisation will not be enough to convince anti-hate campaigners, and those interested in democratic government, that Lennon and Carroll have truly renounced their ways. We hope they have. Well done to Quilliam but many questions still remain."
Moon told HuffPost UK on hearing news of Robinson's departure: "If Robinson and Carroll have indeed decided to focus their attention on both Islamic and far right extremism and have decided to close the toxic English Defence League brand, we welcome the move and they have our support.
"We must also be wary of what will become of the fragmented movement and what will take their place and continue to monitor far right extremism ourselves."