Just 12 months ago, it appeared the influence of the English Defence League had reached the limits of its leader's capabilities.
The movement was fraught with internal petty squabbles, those who were not in prison had fallen out with each other, and supporters of its Facebook page had dropped from a peak of 80,000 to just 18,000. Plans for a political party had disintegrated.
But could the star of its leader, who operates under the pseudonym Tommy Robinson, be rising again, in the wake of the brutal murder of Drummer Lee Rigby in Woolwich?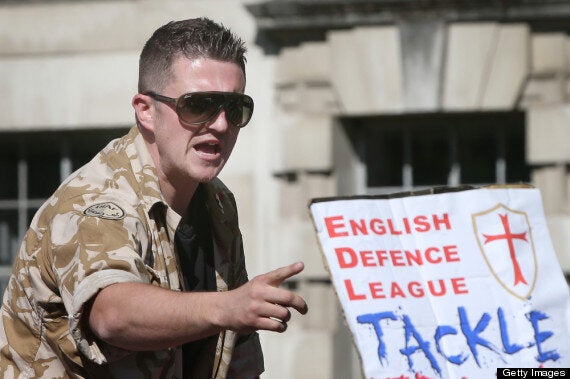 Tommy Robinson, or Stephen Lennon, of the EDL
He also appears to have a penchant for sunglasses.
PROFILE: THE LEADER OF THE EDL
Goes by the name Tommy Robinson, probably really called Stephen Yaxley-Lennon which is the name he uses in court, but Vice claim that he travels using a passport under the name of Paul Harris, which caused some consternation at US immigration.
In one of life's more delicious ironies, Yaxley-Lennon is the child of immigrants. Irish immigrants to be more precise.
He told the Irish Daily Mirror in 2011: "My parents were from O'Connell Street in Dublin. They moved to England in the 1960s and settled in Luton. My father had to face racism with the signs saying 'No blacks, no Irish'. But he learned he would have to adapt to English society. I'm proud to have Irish heritage but I call myself English."
Yaxley-Lennon has been married since 2011, and has three children. The week after his wedding, he was convicted of leading a brawl of Luton Town supporters who clashed with Newport fans, his first EDL related conviction.
"They're chopping our soldiers' heads off. This is Islam. That's what we've seen today. They've cut off one of our army's heads off on the streets of London."
Aside from leading demonstrations causing millions of pounds of damage collectively, his supporters' overt racism, causing injury to police officers and going to a demonstration disguised as a rabbi, Yaxley-Lennon has had his fair share of run-ins with the law.
He had served a 12-month prison sentence for assaulting an off-duty police officer who intervened during a domestic incident between Yaxley-Lennon and his partner in 2005, before his involvement in the EDL.
Yaxley-Lennon has been arrested at numerous EDL demonstrations, which he has been banned from attending as part of bail conditions.
He once accused Twitter of "#creepingsharia" for having a mosque on its homepage. It's a picture of the Taj Mahal.