Shocking eyewitness footage has emerged of Typhoon Haiyan, showing a huge wave wiping out a house.
Nickson Gensis was sheltering on the second floor of a house, in Hernani, Eastern Samar, and continued filming while other onlookers resorted to prayer.
In comments reported on the Plan International website, Nickson said it had been "like a huge tsunami".
"Six of us took refuge on the top floor of a boarding house. Five were praying and I was filming. The others called me to pray with them but I said that I needed to document this".

British warship HMS Daring arrived on Sunday at the crisis zone in the Philippines as part of the UK's emergency response to Typhoon Haiyan.
The Type 45 destroyer and her crew have docked at the island of Cebu ready to provide humanitarian assistance to the areas devastated by the disaster, the Department for International Aid and Development said.
It has spent the last three days carrying out reconnaissance work in and around the Philippines, using a helicopter to survey the areas which have not yet been reached by international relief teams.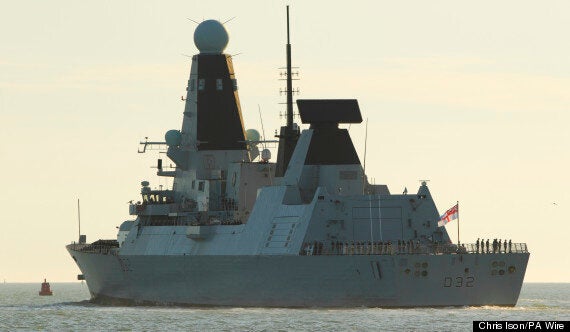 HMS Daring has arrived in the Philippines
The Lynx helicopter will now be used to fly shelter kits, food and medical supplies to those remote areas.
Members of the 12-strong medical team from the UK, which arrived in the Philippines earlier this week, will also be flown to different areas to treat injured victims of the typhoon.
Save the Children said a barge carrying more than 25 tonnes of aid items and essential household kits is also expected to reach the Asian nation this afternoon.
Tomorrow, a British Airways jet will depart the UK after offering aid agencies including Oxfam, Save the Children and Unicef the aircraft to fly emergency aid and supplies to the disaster zone.
A number of Britons are missing following Typhoon Haiyan, Foreign Secretary William Hague confirmed yesterday. The news came as it emerged that donations to the UK's charity appeal had reached £33 million.
Among those feared dead is Colin Bembridge, 61, from Grimsby, Lincolnshire, who was staying with his Filipino partner Maybelle, 35, and their three-year-old daughter Victoria near the city of Tacloban when the storm struck.
Channel 4 News said Mr Bembridge was visiting his girlfriend's relatives and had hired a beach house in Baybay, one of the ravaged coastal villages.
The mother of Mr Bembridge's partner, 79-year-old Lydia, showed the programme the wreckage of the beach house where her daughter and granddaughter were staying, and said they had not been seen since the typhoon struck eight days ago.
A Foreign Office spokesman said Mr Hague spoke on the phone to Philippines secretary for foreign affairs Albert Ferreros Del Rosario to offer his condolences.