Uh-oh, Elle Magazine have really put their peep-toe stiletto in it.
The fashion giant have been forced to apologise after forecasting 'North Korea Chic' as one of its 'top fashion trends' for A/W 2013.
The page, which has since been removed from the website, was first highlighted by Washington Post's Max Fisher and has since caused outrage on social media.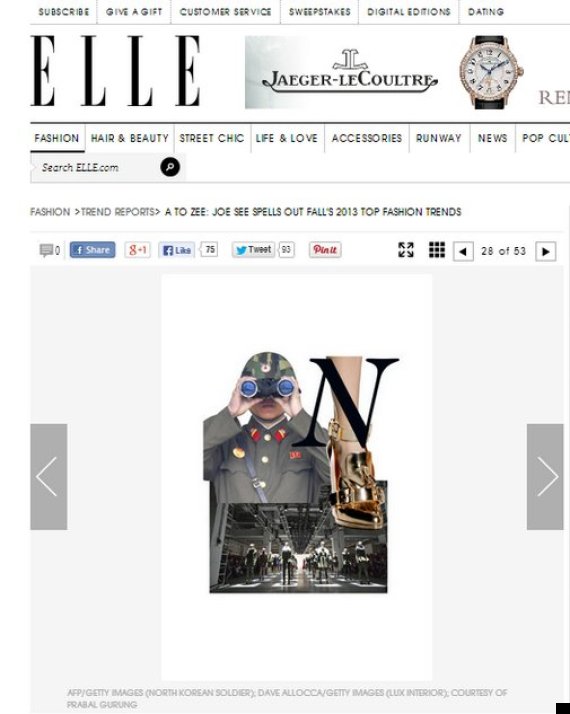 "Some iteration of the military trend stomps the runways every few seasons," the article stated, before being replaced by a stripey jumper epitomising the 'naval' trend. "This time, it's edgier, even dangerous, with sharp buckles and clasps and take-no-prisoners tailoring."
As Max Fisher points out the ill-informed out nature of the piece: "As an example of North Korea Chic, Elle points to a pair of designer camouflage pants that sell for $425. (The average North Korean is thought to make about $4 per day.)"
Elle readers are also unhappy with the feature: "I'm all for the military trend; however, I was shocked that a country known for unspeakable human rights violations would be so lightly referenced," says Caitlin Loder, via e-mail.
The magazine issued the following statement on its website: "We regret the reference to North Korea in our post on the season's military trend, and have removed the image. We apologize to those we offended."
See Also: Vogue Netherlands 'Blackface' Editorial Tribute To Marc Jacobs Raises Eyebrows