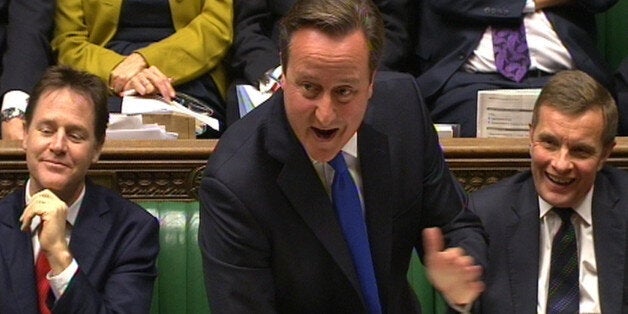 David Cameron was forced to apologise to a Labour MP today after he jokingly accused him of having taken drugs.
When former environment minister Michael Meacher rose to ask about inward investment to the UK during prime minister's questions, Cameron suggested he had perhaps been taking "mind altering substances".
However Meacher did not appear to see the funny side. Following PMQs he complained to Speaker John Bercow. "I asked a perfectly reasonable question which was based on clear documentary evidence," he said. "Is it parliamentary for the prime minister to respond by accusing another another Rt. hon member of sounding like he had been taking mind altering substances?"
MPs across the House roared with laughter as Meacher asked for an apology. The MP for Oldham West and Royton said it did not seem parliamentary for Cameron to use such an "unjustifiably rude and offensive phrase".
In response, Cameron said he respected Meacher and the "important question" he had asked. "I made a light hearted remark, if it caused any offence I will happily withdraw it," he said.
However Cameron added that he felt it "important we can have a little bit of light hearted banter and a sense of humour on all sides."
The prime minister made the joke at the expense of Meacher as he made repeated references to the plight of disgraced banker Paul Flowers, who has been accused of indulging in a heavy drug habit while head of the Co-op bank. The bank has links to the Labour Party and Tory MPs have been keen to try and tar Ed Miliband and Ed Balls with the scandal.
At one point during the session Cameron drew laughs from the chamber when he said Labour's economic policy was "like a night out with Reverend Flowers".
Popular in the Community