During Nuri Şahin's first spell at the club, the Turk appeared to kick a ball from a moving bus on the autobahn against a wall outside, with goalkeeper Roman Weidenfeller catching the rebound from another bus door.
It is almost certainly as fake as Bayern's version, with Franck Ribéry in the Şahin role and Manuel Neuer the safe pair of hands.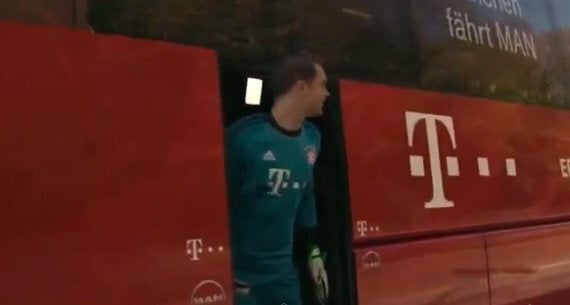 Manuel Neuer gets ready to "catch" the ball
Some gentle ribbing ahead of the clubs' clash at the Westfalenstadion on Saturday evening, what is no laughing matter for Dortmund is the row Germany coach Joachim Löw is again embroiled in following injuries sustained by Mats Hummels and Marcel Schmelzer.
Mario Götze and Toni Kroos were the only Bayern players to face England on Tuesday, with Thomas Müller an unused substitute, while Weidenfeller and Marco Reus made up the Dortmund quartet.
Löw had already sent home Neuer and Bayern captain Philipp Lahm and met with Borussia coach Jürgen Klopp in an attempt to end the club versus country row.
German champions Bayern are four points clear of Borussia at the Bundesliga summit.