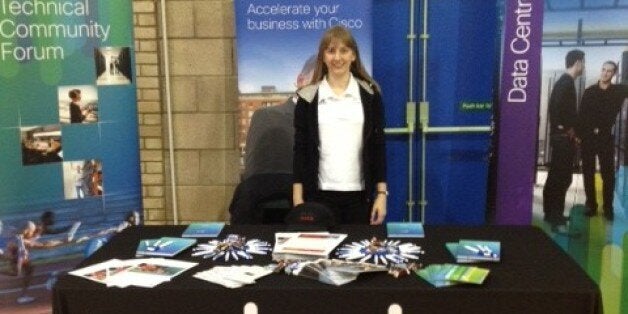 Job Title: Apprentice Cross Functional
What's a typical day like for you?
Every day is different with new challenges. One day could consist of being at our training provider, learning course material for my Level 4 Diploma. Or I could be in the office for customer meetings, demonstrating kit or learning about new technologies that we sell.
I'm in the final year of a three year apprenticeship with Cisco. In Advanced Services I get to learn about all the different stages of support for the network products they offer from project management to engineering test labs, technical support and sales.
The role of Advanced Services is to help customers design, test, deploy and support new computer and telecoms networks, so that people can connect with people and devices can connect with devices. This helps work to be done more quickly and efficiently than ever before, and helps pleasure develop in new and innovative ways, enabling technologies such as on-line gaming and social media to bring people together around the world.
In the first year I got to experience some time in each service department – project management, service sales etc. Now I am in the final year of my Apprenticeship I get to start to specialise and focus my career path and although I have done well in all departments, I am currently working towards building my career in technical sales i.e. demonstrating and explaining the technologies and how they meet customer needs.
What has been the most memorable day of your apprenticeship so far?
The most memorable day of my Apprenticeship so far was when I passed my CCNA (Cisco Certified Network Associate) exam after months of study in the evenings and weekends. Having come from a non-technical background, to complete a highly valued, industry recognized qualification was a massive achievement not just for my working career but also personally.
Why did you decide to become an apprentice?
I decided to become an apprentice because I wanted to continue studying, however I also wanted to get a job and gain the experience in the industry. I spent the second year of sixth form actively looking for an apprenticeship across different industries and by chance found one with Cisco, and thought what an amazing opportunity.
What are the best things about being an apprentice?
The exposure you are given internally to different teams and also the executives is incredible.
Everyone is always so supportive of the apprenticeship programme and is willing to always put time aside to help us if we have any questions.
Another good thing about being an apprentice is all the training that we receive. Not only do we go to QA, our learning provider, for our level 3 diploma in ICT Professional Competence and then a level 4 diploma in ICT Professional Competence, we also get loads of internal training which we can then tailor to our chosen career path.
The other really good thing about being an apprentice is the variety of work we deal with. During our placements we work with a variety of customers and do many different things. We also get involved in a lot of careers fairs and other events, all of which are incredibly enjoyable and give us great external exposure.
What are the best things about working in the industry you work in?
The technology industry is so dynamic and constantly evolving. There are always new challenges no matter what you do. Within Cisco, our products and services develop at a rapid pace, which as employees we must be aware of. It definitely keeps me on my toes.
What's the most surprising thing you've learnt during your apprenticeship?
The most surprising thing I have learnt is how much of a confidence boost you can get from being in a job. Having been a relatively quiet person throughout school, I have learnt that to find anything out, you need to be able to just go up to people and ask them without worrying. You are put with people you don't know and you have to work together. Being more confident has enabled me to participate a lot more and get a lot more out of the whole experience.
What would you say to someone thinking about applying for an apprenticeship?
People have some negative and misguided preconceptions about apprenticeships, but don't be put off and don't be afraid to stand up and say "this is what I want to do". Apprenticeships are great for the combination of studying and gaining work experience in a particular industry. Ultimately, do what you think is best for you.
What do you think are the biggest myths about apprenticeships?
I think that the biggest myths about Apprenticeships are that they are for those who are less academically able and that they only exist in industries such as building and plumbing.
There are opportunities for everyone. There are many industries that offer apprenticeships and I personally know some people who have gained excellent A-level results who have gone on to do apprenticeships rather than university.
What do you expect to be doing in 10 years time?
In 10 years' time, I hope to be a manager, managing a team of Sales Engineers. I have thoroughly enjoyed the last 2 years and look forward to the year that lies ahead. I have learned a lot about myself through the Apprenticeship and I know I will continue to learn and develop over the next 10 years. The best thing is knowing the opportunities are there for me to make this happen.
Why an apprenticeship rather than university?
I hear stories from all my friends who went to university about all the fun they are having, but I look at what I've done and it's crazy. I've already gained valuable industry qualifications, developed my personal and professional skills, got a confidence boost that might have taken me longer to establish through another route.
University would never have given me this chance to gain such invaluable work experience or have enable me to do what I've done to help inspire other young people to follow their dreams. I'm having just as much fun, plus I have started a career and gained industry recognised qualifications along with all the other training I have received. On top of this I have two years' experience already that they wouldn't have had. I feel like I'm in an amazing position at the moment.
What advice would you give someone leaving school or college now?
Ultimately I would say do what is best for you. Don't do something just because you are pushed into it by parents or teachers or just because your friend is doing it; there's no point doing something you don't like and have no interest in.
Research what you would like to do perhaps as a potential career and see what is available for that. Investigate both university and apprenticeships. For some industries you need a degree but some nowadays you don't. There are all these amazing opportunities out there waiting to be found.
It's your future; you decide what is best for you.