SEE ALSO:
Two men have been arrested in Saudi Arabia after religious police spotted them carrying banners offering "free hugs", according to local media reports.
The pair were detained for "violating local laws" and "engaging in exotic practices" in the Muslim kingdom's capital of Riyadh, daily newspaper Al Hayat claims.
The men are thought to have been inspired by a similar stunt carried out earlier in the week by Bandr al-Swed.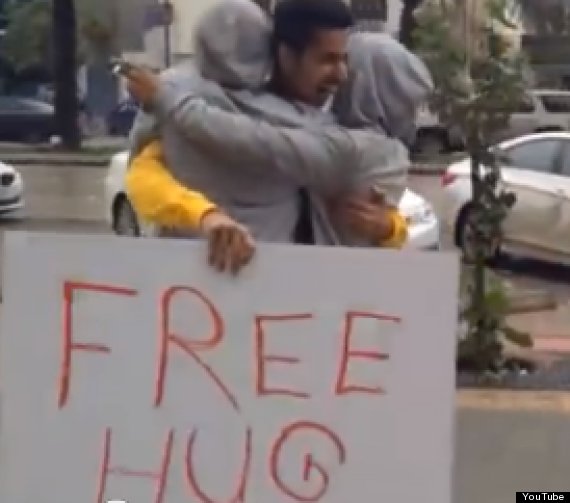 The men said they were inspired by Bandr al-Swed's 'free hugs' campaign earlier this week
Al-Swed released a three-minute film of himself patrolling the streets offering cuddles on YouTube on 19 November.
In just three days the clip has been watched nearly one-and-a-half million times.
Speaking to Al Arabiya, al-Swed said; "After seeing the Free Hugs Campaign in many different countries, I decided to do it in my own country … I liked the idea and thought it could bring happiness to Saudi Arabia."
Of the viral success of his campaign, he added: "I wasn't expecting this much views at all… I wasn't expecting it to become that big. I am really surprised."
While the 21-year-old received much support for his efforts, some who commented on the video were less appreciative, suggesting he is "a man suffering from psychological problems" and speculating about his sexuality.
Meanwhile, one Twitter user has called for more hugs to be deployed as a mark of solidarity towards the two arrested men, one of whom has been named as Adbulrahman al-Khayyal.
#Saudi man arrested for giving out free hugs in #Riyadh. Hug your boss, or a randomer in solidarity http://t.co/Dq03EsMWjR v @patrickgaley

— Joseph Willits (@josephwillits) November 21, 2013
@DAbdualaziz Big hug to Abdulrahman al-Khayyal, arrested in Saudi Arabia for giving out free hugs #FreeHugSaudi

— James Scurry (@JamesScurrySky) November 21, 2013
Al-Khayyal says his placards were confiscated and he and his friend were only released when they signed a pledge vowing not to repeat the act, Buzzfeed reports.
He had earlier tweeted about his intentions to take part in the campaign.
ان شاء الله اليوم بالتحلية #فري_هق@B_swedpic.twitter.com/E78fy1qOVz

— BirthdayBoy#Free_hug (@DAbdualaziz) November 20, 2013
The Saudi religious police - or Commission for the Promotion of Virtue and Prevention of Vice - is responsible with ensuring citizens comply with the kingdom's strict interpretation of Islamic morality.
The Free Hugs Campaign is a world-wide movement encouraging strangers to reach out, embrace and offer each other comfort.
According to Wikipedia two men were arrested for giving out free hugs in Jordan in 2007. The pair were accused of harassing females and the campaign was banned.
This somewhat prescient tweet was made in February 2012. Now you know, @Naif_H
Ever saw these videos on YouTube where people carry a banner that says "Free Hugs"? What would happen if a person did that in Saudi Arabia?

— Naif Al-Harthi (@Naif_H) February 13, 2012