Hula hooping instantly evokes fun childhood memories. But who'd have thought such an effortless sport would end up becoming such a popular fitness workout?
All the cool kids (myself included) are always on the look out for interesting, cheap, and less workout-y (yes, that is a word) ways to keep in shape.
So that's how on one rainy afternoon I found myself heading to Fitness Freak to try my hand at a hula hooping exercise class.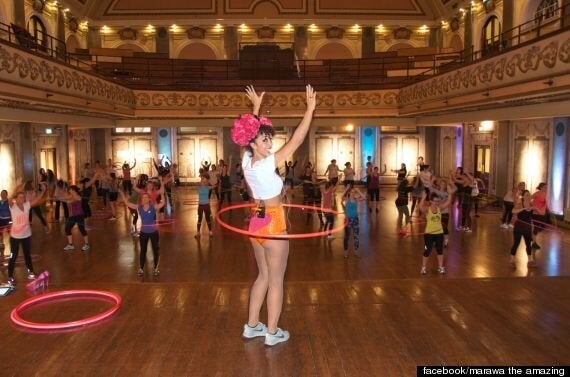 The moment I laid eyes on hula-hoop extraordinaire Marawa The Amazing - I knew this was the sport for me.
Not only did she have abs and legs to die for - none of that toothpick crap! - but her orange sequinned shorts (complete with pink heart on her derriere) and giant pink floral hairpiece simply oozed fun. I instantly fell in love with her.
She looked the part - cute headset and all - and her hula skills would make a grown man cry. This is a woman who wiggles her way through 133 hoops AT THE SAME TIME. (Yeah, I know.)
But don't be fooled by the bright lights, this isn't childs' play. Hula hooping can burn up to 600 calories an hour - but more on that later.
As I enter the class, full of about 50 people and double the amount of hula hoops, my confidence is sky-high.
If my childhood skills are anything to go by, I'm convinced I'm going to be a pro.
But never have I been so wrong.
After a few warm-up moves, I start spinning the hoop at my waist by pushing my hips from front to back. You see, the key to becoming a Hoop Master involves less booty-shaking than you'd think, it is all about abdominal work.
I start to get the hang of it, feeling free as a bird and really proud of myself.
But then my hula world comes crashing down around me: Marawa instructs us to change sides and start spinning the hoop the other way around...
Suddenly all you can hear is the clatter of hoops dropping on the floor and shrieks of laughter, which only makes my abs hurt more.
Magically everyone manages to pick it up quite fast, so Marawa suggests we move onto the next stage: tricks.
We jump, twist and move our legs, all while keeping the hoop at bay. Needless to say I rock at the tricks proceed to drop my hoop a hundred times.
Before we know it an entire hour passes by without anybody noticing ("time flies when you're having fun"), and I start to feel the benefits. Despite being physically exhausted, I am completely relaxed - it must be all that laughing. This truly is a feel good work-out.
Easy to learn but difficult to master, there is always the possibility to improve, such as learning new tricks, picking up more hoops, like smaller ones for your arms.
Benefits of hula hooping, according to hoopnotica:

Hooping burns visceral fat- the fat that is the hardest to get off
Counts as a full body workout working as many as 30 of your muscles
Hooping can burn up to 600 calories an hour (especially if other body parts are engaged)
Improves your spine's flexibility and prevents back injuries
Improves balance and hand-eye coordination (a great practice for your brain to use its non-dominant side more)
Makes you happy and gets you killer abs - what more can you possibly want?
Online fitness booking siteFitness-Freak.com, allows you to try something new every day. Try a Christmas-themed hula class December 9 at York Hall, Bethnal Green. Classes cost £12.50
Or if for some reason you can't make it - why not try it at home? All you need to do is pick up a hula hoop - or 133 of them!
Hungry for more? Check out Marawa in action at Oxford Circus below.