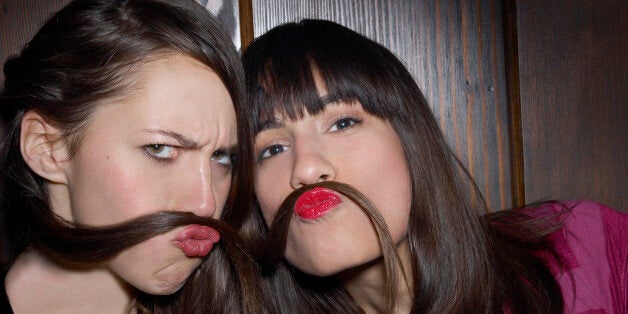 As one of the most important women in your life, a BFF rarely gets off easy.
While others enjoy the calm veneer of a carefully constructed you, she sees the drunken tears, fits of uncontrollable anger and bouts of weltschmerz, which are lurking just below the surface.
Nikki Armytage, leadership coach for women and founder of the Electric Woman campaign, points out that friendships can enrich us in ways that can be hard to imagine "when we're striving to build careers or raise children or juggling both".
"One recently divorced client of mine confessed that her husband's departure had liberated her to more spend time with her close female friends, letting more joy into her life than she had experienced for a decade."
Yet, when it comes to female BFFs, this emotional closeness can also lead to problems.
Here's a typical letter she receives from women:
Dear Cat,

I have always trusted my best friend completely, but since she has got a boyfriend everything has changed. She doesn't come over as much, and she is starting to make fun of me for not having a boyfriend yet.

What should I do? How do I get my best friend back?
This is her typical response to a letter of this kind:
Hi,

You are in a very common but difficult situation, most friendships go through this at one time of another. Your friend is discovering a new relationship and what it means to her. She is bound to be distracted and behaving a little differently. You both sound young and so are learning about yourselves and relationships in general.

Work first on understanding not judging your friend. Accept her as she is, even if she now appears to be different, being able to do this is the mark of true friendship.

Might your friend actually be nervous about this new situation but find it that hard to talk about? Perhaps, you feel hurt or abandoned, after the safety of your friendship and now things are changing you feel vulnerable and less 'ok' about yourself.

Have the strength to admit your feelings of sorrow, disappointment, or even anger. The key is to be your own best friend. Be kind to yourself, value the friendship of others and be the type of friend you would like to have, then you will never go far wrong.

Best,

Cat
However, not every friendship can be saved. According to Huff Post US blogger Janice Taylor, author of All Is Forgiven, Move On, we can all identify those friendships that aren't worth saving, from women who are too negative or whiny, to those who are incapable of talking about anyone other than themselves.
If you're concerned that any of your friendships may be toxic, then perhaps it's worth looking through our expert's check list of unhealthy BFF signs.
Do any of these sound familiar?

You feel that she wants you to be different somehow, or that you can't be as honest with her as you were before.
You discover she has lied to you but you don't know why.
She starts to criticise rather than support you.
You feel she is competing with you, or is jealous for some reason.
You start apologising for the decisions you make, when she would have understood them before.
Cat says: "If you don't like the person she seems to have become then that's ok, don't judge her, but if you need to spend less time with her then you can do that, you are your own person.
"Accept yourself and value your unique strengths and abilities. You are just as 'worthy' whether you have a best friend, or not."
Relationship coach and psychologist Sam Owens recently described being on bad terms with a friends as "like losing a member of your family".
Do you feel this way about your BFF?

You Know She's Your BFF When…